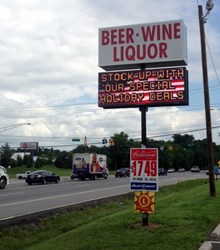 We are on a well-traveled main highway, and we want to introduce our store to as many people as possible.
North East, MD (PRWEB) August 14, 2013
Have you ever found yourself caught in the middle of the summer heat and thankful when you heard, "Get your ice cold beer here!"? Well, if you're ever stuck in the heat of North East, MD, you may be enticed by the glow of a frosty brew on Liquor World's new dynamic full color LED message sign.
Provided and Installed by KC Sign and Awnings, Liquor World purchased the new LED sign specifically to reach out to visitors as they flood the nearby rivers with their boats.
Chip Owens, Owner of Liquor World stated, "North East is a unique waterfront community that doubles in population during the summertime due to the boating community that exists on the nearby rivers. We are on a well-traveled main highway, and we want to introduce our store to as many people as possible."
KC Sign and Awnings installed a Vantage LED Phoenix™ Full Color LED sign featuring the powerful Darwin™ Industrial Control Unit that can handle the most demanding high resolution video and graphics. The store controls the sign using the simple, yet powerful, LightSpeed™ LED sign software. The software is user friendly for the simple user, yet still packed with advanced features for the most tech savvy user.
"KC Sign is the only qualified company in the region that could handle this type of job and they provide superior service and product all at a good price. They stand behind their work 100% and are always available to answer any questions," added Mr. Owens.
Liquor World boasts to have the largest beer cooler in the tri-state area. After opening all 41 doors, visitors will be able to find what they need to beat the heat. With summer almost over, Liquor World looks forward to advertising for the holiday seasons coming up with their new full color dynamic LED message sign.
About KC Sign & Awnings:
KC Sign & Awnings is a full service, interior and exterior, signage provider with over 20 years of experience in the Mid-Atlantic Region. The family owned and operated company with nearly 40 employees is committed to delivering the highest quality products on time. Their commitment to stand behind all of their work has enabled them to become one of the largest providers of all types of signage in the region. They now operate 3 locations that provide service to the PA, DE, NJ, and MD areas, with 25,000 square of manufacturing at the corporate facility.