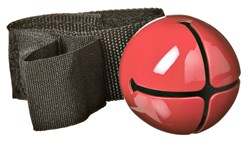 Fenton, MO (PRWEB) August 22, 2013
Startling bears, especially a bear with cubs can turn into a dangerous situation. Charging bears can cover 50 feet per second. A park ranger at Denali National Park and Preserve clocked a grizzly running 41 miles per hour. It is important for outdoor enthusiasts to avoid startling a bear by making their presence known.
The FRONTIERSMAN Bear Bell alerts bears of your presence and reduces the likelihood of a charge or attack. The FRONTIERSMAN Bear Bell can easily attach to a backpack, belt, saddle or shoes.
FRONTIERSMAN Bear Bell is not a replacement for bear spray, which has been repeatedly proven effective at deterring charging bears.
The FRONTIERSMAN Bear Bell is available in black, red, blue, green and yellow. MSRP is $4.99 and can be purchased at most major outdoor retailers or online.
"Making Grown Men Cry Since 1975," Security Equipment Corporation (SEC) produces the safest and most effective line of defense spray products. Branded as SABRE, SABRE RED and FRONTIERSMAN, SEC is the global leader in the personal defense spray, law enforcement pepper spray and animal attack deterrent spray industries. FRONTIERSMAN, When Only The Best Will Do!
For more information about FRONTIERSMAN and other Security Corporation products, go to http://www.sabrered.com.