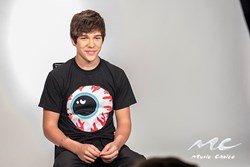 (PRWEB) August 12, 2013
Music Choice is going Back 2 School (B2S) this August celebrating all things that are fashion and popular! Starting today, the multi-platform music network will launch its Back To School campaign featuring popular and fashion forward artist videos On Demand and SWRV from Austin Mahone, Selena Gomez, Taylor Swift, A$AP Rocky, Karmin, Miley Cyrus, Bruno Mars and many more! The campaign runs through September 1st and is available for free nationally.
Program highlights include:
1st Rank- Special edition of the video countdown show featuring fashion editors and bloggers from Life & Style Weekly, HollywoodLife.com, and NatalieOffDuty.
Primed Freshman Class - Featuring up and coming artists ASAP Ferg starting August 12; La Santa Cecilia starting August 19; Austin Mahone starting August 26
Video On Demand Playlist - Pop Fashionistas; Freshmen Class; Hip-Hop Swag; Country Fashionistas
SWRV - Fashion themed episodes of SWRV Takeovers & The Cut featuring fashionable artists and style bloggers each week including:
Wednesday, August 14th

6p: SWRV Takeover: Austin Mahone
6:15p: SWRV Takeover: Katrina Mitzeliotis of Hollywood Life.com
6:30p: The Cut: Best Under 21 featuring Austin Mahone
Wednesday, August 21st

6p: SWRV Takeover: Karmin
6:15p: SWRV Takeover: Christine Bibbo Herr of Life & Style Magazine
6:30p: The Cut: Best Trendsetters featuring Karmin
Wednesday, August 28th

6p: SWRV Takeover: Ace Hood
6:15p: SWRV Takeover: Natalie Off Duty (natalieoffduty.blogspot)
6:30p: The Cut: Best Swag featuring Ace Hood
For more information on Music Choice, log on to http://www.musicchoice.com