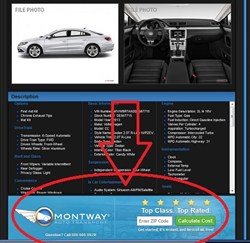 Auction123 only teams up with partners who present an added value to our dealer subscribers.
Chicago, IL (PRWEB) August 13, 2013
Montway, Inc., the leading auto transport company in the country, has recently teamed up with Auction123, the leading provider of inventory management, online marketing solutions, and websites for dealerships of all vehicle categories, to offer instant vehicle shipping quotes within their dealer's inventory detail pages and eBay Motors listings.
Over 90 percent of people looking to purchase a vehicle today begin their search online. Often times, the vehicles purchased must be shipped to the customer cross country. It can be difficult for consumers to find a reputable company offering instant and valid online car shipping quotes. Now, dealers marketing their vehicles via Auction123's solutions can seamlessly integrate Montway's price quote calculator throughout their vehicle listings.
"Auction123 only teams up with partners who present an added value to our dealer subscribers," said Ray Basha, President of Auction123. "Offering the opportunity to obtain an instant shipping quote promotes the sales process with that specific vehicle and subsequently establishes a connection with the shopper and the dealership."
Montway has been offering this online car shipping tool to the automotive community for years and is pleased to bring its technology and online service to dealerships nationwide with Auction123.
Founded in 2001, Auction123, Inc. is the leading provider of website development, inventory management, and online marketing solutions for dealerships of all categories including Automotive, RV & Camper, Powersports, Motorcycle, Marine, Commercial Truck, Business & Industrial, and Aircraft. Their award winning web-based software offers tight and seamless integration between the Dealer Management System (DMS), the dealer's website(s), eBay Motors, Craigslist, Facebook, and all third-party classified websites. Auction123 is an eBay Motors Preferred Provider. For more information on Auction123 visit their website at http://www.auction123.com. To schedule a demo, call (888) 514-0123 or email info(at)auction123(dot)com.
ABOUT MONTWAY, INC.
Montway, Inc. is an award-winning, five-star rated, car moving and vehicle shipping company based outside Chicago in Des Plaines, Illinois. By providing fast, secure and reliable door-to-door automobile delivery, Montway has earned the trust of car dealers, classic car collectors and everyday car owners alike. They offer free online auto transport quote's and affordable automotive shipping services to customers ranging from the owners of luxury automobiles and classic collector vehicles to regular car, truck or van owners.
Montway moves over 35,000 vehicles a year, maintains a private fleet of open and enclosed car carriers, and are licensed to access independent vehicle hauling fleets nationwide. Whether you need your car shipped cross country or just one state over, Montway has you covered. Visit them online at http://www.montway.com or call 888-666-8929 to speak to a vehicle relocation specialist today.