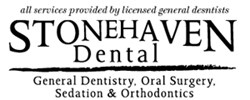 When it comes to kids, the option for sedation often defines their experience.
Salt Lake City, UT (PRWEB) August 19, 2013
Getting children to the dentist seems an uphill battle for most. The whining and struggling in the car are nothing compared to what happens in the ominous chair. The temper tantrums of children that are either too scared or too fussy for a checkup are erupting all over in dental offices of Orem. These tantrums can not only take a toll on a parent's sanity, but they can be distracting—and, in some cases, dangerous. Sedation dentistry in Utah is an answer to that outreach. The Stonehaven offices are dedicated to providing services that work for your entire family.
The expert oral technicians at Stonehaven family dentist of Salt Lake City are no strangers to the special needs of their younger patients. They know that it can be a scary place for the unfamiliar, and that is why the team at Stonehaven is working to make evey experience—especially those with children—just a little bit easier through advances in the field of sedation dentistry in Utah.
The team at Stonehaven has been serving the community for years with dental offices in Orem and Salt Lake City. As one of the more established practices in the valley, Stonehaven excels at taking the best possible care of their patients—no matter the age. Stonehaven dedicates a large department of their offices to pediatric care, and they know better than most practices that a calm child is a happy child. Taking care of children is one of the key services that Stonehaven offers, and they pride themselves on the care and comfort with which they examine their younger patients. Being experienced in the practice of pediatric care, the technicians at Stonehaven know the perils and pitfalls of operating on children. However, they also know how to avoid them.
One of the steps that Stonehaven family dentist of Salt Lake City has taken to ensure both a calm and happy dental visit for your child is endorsing their "Happy Visits". Happy Visits are a time for kids (and their parents) to learn about oral hygiene and checkups, and to become more comfortable with getting their teeth worked on. Stonehaven believes these visits—which are no-charge—use techniques to gain trust, and to help the child accept treatment. The practice also offers movies for children to watch during procedures and, for a limited time, Stonehaven is offering Nitrous sedation dentistry in Utah at no extra cost to new patients. With all of these new methods in pediactric care, your child's checkup is sure to be worry-free. Call to book your no-charge Happy Visit at one of their dental offices in Orem today or visit their website http://www.stonehavendental.com for more information.