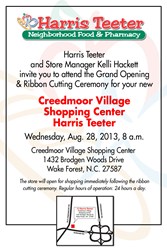 Charlotte, N.C. (PRWEB) August 14, 2013
Harris Teeter is proud to welcome shoppers to its Creedmoor Village store on Aug. 28, 2013. The company is celebrating the grand opening with a ribbon cutting ceremony at 8 a.m. as well as weekend activities to introduce community members to the H.T. Difference.
In each of its stores, including its newest store at Creedmoor Village, Harris Teeter strives to offer customers an excellent shopping experience on every visit. An excellent shopping experience starts in the store with customer service, high-quality perishables along with great variety and selection.
The Creedmoor Village Harris Teeter will be open 24 hours, and the Harris Teeter pharmacy will be open seven days per week, as well.
Fast Facts:
Store Address: Creedmoor Village Shopping Center
1432 Brodgen Woods Drive
Wake Forest, N.C. 27587
Grand Opening Date: Wednesday, Aug. 28, 2013
Grand Opening Time: 8 a.m., ribbon cutting
Event Dates: Aug. 29 - 31: e-VIC mobile, signing-up customers
Sept. 6-8: Harris Teeter Rancher Mobile Grill, free samples
Sept. 13-15: Harris Teeter Ice Cream Truck, free samples
Store Hours: 24 hours
Pharmacy Hours: 9 a.m. – 9 p.m. M-F; 9 a.m. – 7 p.m., Sat.; noon – 6 p.m. Sun
Square Footage: 53,000
Check-Out Lanes: Eight checkouts and four USCAN checkouts
Features and Departments:
Full-service Butchers Market with Rancher Beef, HT Reserve Angus Beef and HT Naturals Natural Beef • Full-service Fishermans Market • Shrimp Party Trays • Farmers Market Produce • Full-Service Floral and Custom Floral Arrangements • Produce Party Trays • Gift Basket Program • Full-service Fresh Foods Market Deli/Bakery • Sushi • International Cheeses • Chef Prepared Foods To Go • Ice Cream Cakes and Custom Cakes • Sub Shop • Artisan Breads • Made-to-Order Sandwich Program • Caesar Salads and Fresh Made Salads • Party Trays • Boar's Head Meats & Cheeses • Slicing Meats & Cheeses • Rotisserie Items • Coffee Bar • Organic, Natural and Specialty Foods • Wine and Beer • Bulk Candy • Pharmacy • Western Union • Coinstar • Red Box DVD Rental Kiosk • Double Coupons • Club 60 Senior Discount • Express Lane Online Shopping • Carryout Service • USCAN • Sit-down eating area
About Harris Teeter
Harris Teeter Inc., with headquarters in Matthews, N.C., is a wholly-owned subsidiary of Harris Teeter Supermarkets, Inc. (NYSE: HTSI). Harris Teeter is the 23rd largest supermarket in the U.S. with 2012 sales of $4.54 billion. The regional grocery chain employs approximately 25,000 associates and operates stores in North Carolina, South Carolina, Virginia, Georgia, Tennessee, Maryland, Delaware, Florida and the District of Columbia.