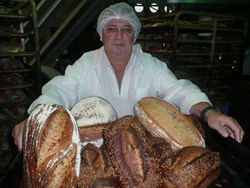 "No one goes to the lengths we do or adheres to such high standards to produce quality artisan breads" Felix Barats, master baker, owner, Chicago Specialty Bakers
BENSENVILLE, IL (PRWEB) August 13, 2013
Felix Barats' highly regarded Chicago Specialty Bakers is on the fast track as he expands his artisan bread baking business to more domestic and International air lines, specialty supermarket and grocery stores, food service operations, and cafe and restaurant chains, while strengthening sales of his customized Eastern European and German rye breads.
It is buoying expectations the artisanal baker's tradition-true, dark colored, coriander spice-topped, sweet-sour flavored Russian Rye, the "Borodinsky," will become the next big thing in the U.S. marketplace since the Italian ciabatta.
And the reason lies with Barats, the specially-trained, creative, hands-on, detail-oriented company owner and master-baker who is so devoted and dedicated to his craft he uses the best ingredients and processes possible to produce the highest quality products enjoyed by high ranking government officials, international travelers, an exacting ethnic audience in search of specific European tastes they know and love, and discerning, on-the-go consumers. Notably, NATO Summit 2012 dignitaries enjoyed specialty breads produced by Chicago Specialty Bakers on most flights into and out of Chicago.
"No one goes to the lengths we do or adheres to such high standards to produce quality artisan breads," said Barats, bread maven extraordinaire celebrating 31 years in the bakery business.
Barats' experience and expertise in the baking business has given rise to his aggressive expansion that includes constructing next year a new multi-million dollar production facility doubling the size of current Bensenville (IL) operations and featuring the latest technological advances and state-of-the art baking equipment.
With an industry trend caused by an uncertain economy that finds many bakeries succumbing to the pressure to sell to bigger entities who strictly adhere to the bottom line administered by accountants with less attention paid to quality, Barats not only is keeping his bread making business lean but solidifying his position as the main contact, the go-to guy for current and prospective clients providing his experience and expertise.
When you do business with Chicago Specialty Bakers you do business directly and exclusively with the internationally-known Barats who demonstrates every day his customer-is-king approach.
Barats every year returns to Europe – especially France and Germany – for special ongoing training to hone his artisanal baking skills and to discover the latest baking technologies and equipment. He is completely confident, even in this down economy, of reaching his next goal, that of turning his "Borodinsky" into the industry's next significant trend.
Barats receives a hero's welcome in Russia when he returns fully armed with the "Borodinsky" – a Russian treasure – to visit family. He is overwhelmed by the response and the accolades for the taste he produces.
"We are the only major wholesale artisan bakery of its kind in this country to use 100 per cent rye flour and a 30-year-old rye levain, which is superior to yeast as a leavening agent. We make the 'Borodinsky,' the most popular bread in Russia, the same exact way they make it there. Ours is 'America's Borodinsky,'" he said.
Handling both smaller custom and high volume specialty orders with equal excellence in quality and service has helped put Chicago Specialty Bakers on the map. Expansion and the enhanced capabilities it brings not only will more than double its current daily output of fresh breads, dinner rolls, French-style baguettes, ciabatta, focaccia, and pretzel hamburger and sandwich buns, but will enable it to make an even better product to meet the needs of its growing customer base.
"We are custom artisan bakers," said Barats. "We only produce products when a customer's order comes in. We meet with them to learn what their needs are and make bread for them to achieve their goals."
Patrons of well known Chicago area specialty supermarkets and grocery store chains such as Fresh Farms International Market, Garden Fresh Market, and Joe Caputo & Sons Fruit Market Deli & Fresh Meats are enjoying the Russian and German rye breads sold over the counter.
Every day, thousands of passengers on most European and Asian air line routes are enjoying a variety of Chicago Specialty Bakers artisan breads uniquely crafted for their specific tastes.
Domestic travelers on Amtrak enjoy its breads as do professional and amateur athletes on private team airplanes, who special order Chicago Specialty Bakers 16-ounce beef sandwiches among other requests. Chicago Specialty Bakers artisan breads also are popular among passengers traveling on official government air craft, though details may not be elaborated by Barats for security reasons.
Current discussions with multi-location outlets - major supermarkets and coffee houses, hotels, food service operations, airlines, etc. - will give rise to Barats achieving his goal of a rye bread Renaissance…sparked by his dear-to-his-heart "Borodinsky."
Eugene Nicolaev, whose Freedom Bell Foods (Broadview, IL) has been distributing Chicago Specialty Bakers products to grocery stores, ethnic delis and restaurants for ten years, said customers pay more for the company's specialty bread but don't mind since they are buying a better quality product.
"Many of our German customers say the German bread is the best bread they've had since coming to this country 20-30 years ago," said Nicolaev.
Chicago Specialty Bakers business took off, "we really soared," said Barats, when its artisan breads entered the transportation industry.
Nick Deastis, president of Direct Food Service, Inc. (Bensenville, IL), has been distributing Chicago Specialty Bakers' artisan breads for seven years. He has come to appreciate the company's capabilities.
"Chicago Specialty Bakers advantage is it deftly handles both custom boutique orders and high volume requests with the same attention to quality. They have fulfilled every one of my clients needs," he said.
"The American consumer has learned about these wonderful European-style artisan breads and how they enhance their eating experience; especially rye bread, which has come a long way."
Barats previously owned a retail bagel bakery chain but had so much demand from restaurant owners to produce specialty breads for them that he turned his attention full time to wholesale business. In 1982, he formally opened Chicago Specialty Bakers. Today, buns and rolls are his best sellers.
Barats has developed for today's consumers one-of-a-kind products by developing recipes with old world taste. He achieves the unique flavors by purchasing the finest ingredients and utilizing the latest techniques and Old World approach in fermentation, levain preparation, shaping, molding, and expert baking.
Consisting of no sugar and low yeast concentration but without preservatives or additives, his products appeal to the most cautious consumers. Its lines of par-baked products, which are baked 80-90 per cent of its normal condition, are then quick frozen to maintain freshness. With only 10-15 minutes until fully baked, this option appeals to many different types of operations.
Currently operating in a customized facility until its new, 100,000-square-foot state-of-the-art building is up and running next year, Chicago Specialty Bakers staff runs four automated production lines. Though he uses the latest technology and equipment to make his artisan breads, Barats, as always, maintains a hands-on approach, especially when it comes to the sourdough rye breads which take three days to make.
"I personally monitor the sour cultures on a daily basis," he said. "These are living organisms…I know what to look for."
Chicago Specialty Bakers artisan breads fulfill the needs of a discerning public, said Deastis.
"Chicago Specialty Bakers simply makes the best artisan breads. Their bread is fantastic, one of the best breads I've ever had. I am speaking from the heart as well as my stomach," said Deastis.
For more information, please call (630) 860-1225.