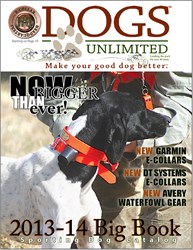 We're always looking for new and innovative products...
Hudson, CO (PRWEB) August 20, 2013
The first week of August saw the eagerly awaited 2013 - 2014 Dogs Unlimited Big Book catalog arrive in customer's mailboxes. Containing pages and pages of new gun dog training supplies and upland and waterfowl hunting items, this is the largest catalog Dogs Unlimited has produced in its 42 year history. In addition to the new offerings, this 92 page catalog also has the traditional hunting dog training products that have proven indispensable to serious dog trainers over the years.
Alan O Davison, owner of Dogs Unlimited, says, "We're always looking for new and innovative products that'll compliment our existing line of hunting dog training items that will help our customers train their dogs better so they'll have a more successful and enjoyable time in the field. Whether hunting upland or waterfowl or perhaps competing in performance events like horseback field trials, it's our goal to offer the gear that will help them accomplish their goals."
Packed with all types of hunting dog training items, this catalog features products from the best companies in the business - Filson, Garmin, Avery Outdoors, Dogtra, Mud River Dog Products, GunX Starter Pistols and Mendota Dog Products to name a few. These companies have established themselves as the leaders in the industry and their high quality, innovative products prove this year in and year out.
FieldKing has become a brand leader in the industry as well. Offering unique and useful gun dog training items like the Almost Famous Check Cord, Field Trial Collars and Game Stewards Bird Bags, many items in the FieldKing line have become staples in the gun dog training and upland hunting community.
Davison continues, "Professional hunting dog trainers and serious amateurs are looking for quality products and the brands that we sell are the very best. If you want a class bird dog you can't take shortcuts and that includes the tools that you use in the field."
Dogs Unlimited puts out one catalog a year and this year's is the best yet. You can request a catalog by contacting Dogs Unlimited directly at 800-338-3647 or by going to their website at http://www.dogsunlimited.com/.