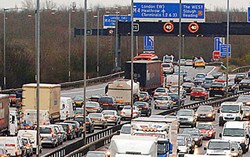 For the latest traffic and travel update: Call 0906 470 1740 from your landline, or 1740 from your mobile before you travel or during your journey for Live Traffic Reports.
Cranfield, Bedfodshire (PRWEB UK) 13 August 2013
As we head through August – the "traditional" summer holiday month for much of England and Wales – the exceptionally hot, dry weather experienced during July has given way to more unsettled weather conditions – sunshine and showers – with less extreme temperatures and occasional longer periods of rain, more usually associated with the English summer.
As a result, Graham Smith, Data Manager at Trafficmaster comments: "the regular commuter traffic "hot spots" each weekday morning and evening are less congested than usual. During off-peak times and at weekends, there can be additional leisure traffic, but this often depends upon the weather. Special events, such as County Shows and air shows will attract locally heavy traffic, especially when the event ends each day." There are, however, three weekends in the month and early September, and with over 25 years monitoring the UK's traffic levels, Trafficmaster's data forecasts when exceptional traffic can be expected on the roads:
Friday 16th to Monday, 19th August:
The weekend of the two "V" Music Festivals, at Weston Park in Staffordshire, and at Hylands Park, near Chelmsford, usually brings heavy road traffic as visitors assemble at each site, and subsequently depart when the festivals end.
The Staffordshire "V" Festival attracts visitors from early on Friday, 16th August, when exceptionally heavy traffic will occur on M6 (both directions towards the exit at Junction 12), M6 Toll (westbound towards Junction 11A on M6), M54 (both directions towards the exit at Junction 3), A41 between M54 Junction 3 and Newport (Shropshire), and local roads around Weston Park. Temporary traffic restrictions are usually enforced throughout the Friday and Saturday on these sections of road; through traffic is urged to avoid these sections of road whenever possible, whilst visitors to the Festival should observe the temporary traffic restrictions and be patient. Similarly, these roads are likely to be congested with departing traffic on Monday morning, 19th August, although departures from the site tend to be spread over a longer period.
The Chelmsford "V" Festival generally attracts a higher proportion of one-day visitors, with roads to the site busy each afternoon and early evening on Friday 16th, and Saturday 17th, then returning from the site each morning from Saturday 17th through to Monday 19th when returning traffic is likely to be exceptionally heavy. The roads concerned are M25/A282 anti-clockwise through the Dartford Crossing, M25 both ways towards the exit at Junction 28, A12 from M25 Junction 28 eastwards to the Chelmsford Bypass (Junction 15), and westbound towards the same junction, A414 and other local roads on the southern side of Chelmsford. With the additional holiday traffic also using the Dartford crossing, the eastern sector of the M25 in particular is likely to be exceptionally busy throughout the weekend.
In additional to the V Festivals, there are a number of other leisure events during the weekend which are likely to attract heavy local traffic including air shows at Eastbourne, Weymouth, Biggin Hill, Headcorn and Old Warden (Beds.), a balloon festival at Billing Aquadrome (Northants.), steam rallies at Truro, Lincoln, and Poulton (Glos.) and Rugby Union Sevens at Twickenham (West London).
Thursday, 22nd August to Tuesday, 27th August:
The weekend of the Late Summer Bank Holiday, and the following week, is usually the last chance for family breaks away from home before the resumption of school terms in England and Wales in September. As a result, the reduced commuter traffic on Thursday afternoon, 22nd August and Friday, 23rd August, will be substantially supplemented by "get-away" traffic as many start a long weekend, or a long week's break. In addition, the Reading Weekender Music Festival will be attracting heavy traffic to the site to the west of Reading from Wednesday, 21st August onwards, and its northern "counterpart" at Bramham Park, Leeds, will result in very heavy traffic to that site on Friday, 23rd August. Access roads to both Music Festivals will be subject to temporary traffic restrictions – at Leeds likely to involve the section of A64 between the Northern Ring Road and A1M at Bramham, whilst heavy traffic should be expected on M4 both ways towards Junctions 11 and 12, and M1 towards A1M at Junction 49. Through traffic is advised to avoid the areas of both festivals, whilst those heading for the festivals should follow the signed routes and be prepared for delays.
It is expected that all scheduled road works on trunk roads and motorways in England and Wales will be removed or suspended over the Bank Holiday weekend.
The busiest sections of road on Thursday late afternoon (22nd), Friday afternoon and evening (23rd) and Saturday morning and early afternoon (24th) are expected to be:

M25 Western Sector both ways between Junction 21 and Junction 10, especially around Junction 14/16 (M4 & M40 interchanges and Heathrow Airport); also south-east sector both ways between Dartford crossing and Junction 6 (Godstone).
M4 westbound from Junction 1 (Chiswick) to Junction 13 (Chieveley), and between Junction 18 (Bath) and Junction 20 (Almondsbury Interchange)
M5 westbound from Junction 15 (Almondsbury) to Junction 31 (Exeter South)
A303 westbound from M3 Junction 8 to A30 at Upottery, Devon; A30 and A38 westbound through Devon and Cornwall.
M3 southbound from Junction 9 (A34) to M27 at Junction 13, and M27/A31 westbound towards the Dorset coast.
M1 northbound from Junction 6A (M25) to Junction 13 (Milton Keynes South) and from Junction 21 (M69) to Junction 32 (M18),
M6 both ways between Junction 4A and Junction 11A; also both ways between Junction 14 (Stafford) and Junction 20 (M56) and northbound from Junction 29 (Bamber Bridge) to Junction 32 (M55 to Blackpool).
A11 both ways between Elveden and Thetford.
M60 around Manchester, especially between Junction 12 (Eccles) and Junction 18 (M62/M66 interchange).
A64 eastbound from York Ring Road towards Yorkshire coast.
On Sunday and Bank Holiday Monday, 25th and 26th August, traffic across much of the country is expected to be relatively quiet, unless the weather is exceptionally fine, when coastal routes are likely to be busy with day trippers. On these days, however, there will be road closures and restrictions on A40M (Westway) and local roads in West London for the Notting Hill Carnival.
Throughout the Bank Holiday weekend, there are also very many other leisure events which will attract locally heavy traffic, especially when the events close each day. In England and Wales, these include other music festivals at Daresbury (Cheshire) (Thursday to Saturday), Cheltenham Racecourse (Friday to Monday), Towersey (Oxfordshire) (Thursday to Monday), Overton (Hampshire) (Friday to Sunday) and Clapham, London (Saturday & Sunday); air shows at Clacton, Dawlish, Little Gransden (Cambs.) and Dunsfold (Surrey); motor-cycle racing at Cadwell Park, Louth (Lincs.); cricket at The Oval; Rugby League at Wembley Stadium (Saturday); steam rallies at Horsham, Earls Barton and Shrewsbury and car rallies at Overton (Hants.), Knebworth and Honiton.
During the late afternoon of Bank Holiday Monday, 26th August and the morning period of Tuesday, 27th August, there will be heavier traffic than usual homebound on the holiday routes – M5, A30, A38 and A303 from the West Country, A31/M27/M3 from the Dorset coast, M25 around Junctions 14/16 (Heathrow/M4/M40 interchanges), M25 around Dartford crossing, A11 and A47 from the East Anglian coast, M55/M6 southwards from Blackpool & Lake District, as some return home after the Bank Holiday. It is expected, however, that the rest of the week – Tuesday, 27th August to Friday, 30th August – will be much quieter than usual on the roads, with comparatively little commuter traffic, as many take advantage of a full week's break.
Friday, 30th August to Monday, 2nd September:
There are also a number of leisure events in England and Wales scheduled for the weekend following the Bank Holiday, which will bring heavy traffic to local roads, especially when the events close each day. These include air shows at Bournemouth, Shoreham and Old Warden (Beds.), a steam rally and a music festival at Blandford (Dorset), a regatta at Dartmouth, motor-cycle racing at Silverstone, cricket at Chester-le-Street and a country fair at Chatsworth House (Derbyshire).
During the evening of Friday, 30th August, the annual Blackpool illuminations will be switched on. Very heavy traffic can be expected on roads into Blackpool, and there will be road closures and diversions along the seafront during the late afternoon and evening.
On Sunday, September 1st, homebound road traffic will gradually build along the main holiday routes, especially during the late afternoon and early evening as most return home after the holiday break. From Monday, September 2nd the normal commuter routes will become very busy during morning and evening peak times, further increased during the week as schools in England and Wales resume for the Autumn Term. As industry resumes in full after the summer break, September is usually one of the busiest months of the year on Britain's roads.
Scotland:
In Scotland, the main Summer holiday period has now almost passed and many schools resume for the Autumn Term during the week commencing Monday, 19th August. In Edinburgh, however, the Festival, its associated "fringe" events, and the evening Military Tattoo continue until the final week of August, attracting much tourist traffic to the City's roads. Although the weekend of 23rd to 26th August is not a Scottish Bank Holiday, there are a number of leisure events scheduled for that weekend in Scotland including golf at Gleneagles, equestrian eventing at Blair Castle (Perth), and motor racing at Knockhill (Fife). These will attract locally heavy traffic, especially when the events end each day.
For the latest traffic and travel update: Call 0906 470 1740 from your landline, or 1740 from your mobile before you travel or during your journey for Live Traffic Reports. Alternatively for more information about Trafficmaster's other services and a live view of traffic on the roads go to http://www.trafficmaster.co.uk