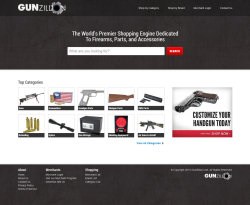 GunZillion.com is customized specifically to meet the needs of consumers and retailers in the firearm industry.
Omaha, NE (PRWEB) August 14, 2013
GunZillion.com is an online, comparison shopping engine focused exclusively on the firearms market. GunZillion.com is positioned to become the world's premier shopping engine dedicated to firearms, ammunition, parts, and accessories. The website will offer hundreds of thousands of products available from a network of the top online retailers enabling the consumer to quickly find and compare the products they are seeking to purchase. Dedicated to the firearm industry, GunZillion.com is able to offer advanced search capabilities as well as caliber and gun model filtering, offering users a truly unique shopping experience.
"The walls have been closing in on firearm companies ability to advertise online for quite some time," Jake Messerly, President of GunZillion.com explained. "Over the past year popular sites such as Google, Nextag, and Amazon have stripped the vast majority of firearm related products from their websites leaving retailers very few options for promoting their products online. GunZillion.com will give consumers an exclusive experience and retailers a dedicated channel to market their products."
GunZillion.com is formed by a passionate group of internet marketers, firearm experts and enthusiasts. With decades of experience in those key areas, GunZillion.com is seeking to partner with the top retailers in the industry to offer a service sought after by millions in the firearms, ammunition, parts, and accessories market.
GunZillion.com's goal of building strong relationships with the industry's top merchants has already begun, and tens of thousands of products have already been added to the website. For information on how to get your products listed and view a special sneak peak of the upcoming website, please go to http://www.GunZillion.com/. Take advantage of the kick off promotion and receive your first $500 in clicks free.