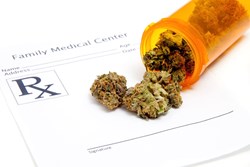 The Holistic Center became the first medical marijuana evaluation center in Boston, bringing hope to tens of thousands seeking relief ...
Boston, MA (PRWEB) August 14, 2013
In November 2012, the voters of Massachusetts elected to make medical marijuana legal as an alternative treatment for chronic pain and other symptoms associated with a wide range of conditions. In April 2013, The Holistic Center opened to provide medical marijuana evaluations by board-certified MDs in order for patients to obtain medical marijuana cards, which allow them to legally possess marijuana for medicinal purposes.
Medical marijuana is a natural, organic medicine that can treat a variety of conditions without the side effects or addiction problems that complicate the use of many man-made remedies. Some patients find that medical marijuana allows them to reduce the dosage of a necessary traditional medication, while enhancing its effectiveness.
Patients who suffer from cancer, HIV, MS, epilepsy, anorexia, glaucoma, Crohn's disease, hepatitis C, ALS and other serious conditions get relief with medical marijuana. The pain, nausea, vomiting, appetite loss, cramping, seizures and muscle spasms that accompany these conditions can be alleviated with medical cannabis.
Patients who use medical marijuana often regain their appetites, start eating more and are stronger and better able to deal with their disorders.
The Holistic Center is committed to the concept that marijuana is medicine. The doctors at The Holistic Center, from CAP Anesthesia, PC, are trained and board-certified in pain management. They are convinced that the medical use of marijuana can reduce dependency on manufactured painkillers and other remedies, while bringing positive results to patients with serious ailments.
Many primary-care physicians may not be able to provide their patients with medical marijuana certificates because of restraints their insurance companies may place on them. And, many physicians just don't see any benefit in medical marijuana.
At The Holistic Center, patients benefit from their holistic approach to relieving often unbearable symptoms. Patients get a thorough, non-invasive evaluation; there is no physical exam. One of The Holistic Center's doctors reviews a patient's current medical records and information the patient provides and makes a determination. If a patient qualifies, he/she receives a medical marijuana card at the end of the evaluation.
While medical marijuana dispensaries won't open in Massachusetts until later this year or early in 2014, holders of medical marijuana cards from The Holistic Center have a few options for getting relief now. They can grow their own marijuana, they can appoint someone to grow it for them, or they can go to another state that has medical marijuana dispensaries and accepts Massachusetts medical marijuana cards.
In New England, currently, Maine and Rhode Island are the only states with operating medical marijuana dispensaries. Both states recognize medical marijuana cards from Massachusetts.
Patients with medical marijuana cards from The Holistic Center can legally possess 10 ounces or less of medical cannabis, which is a 60-day supply under the law.
Massachusetts residents who want to take advantage of a holistic approach to relieving chronic pain and other symptoms can get more information and make an appointment for a medical marijuana evaluation by contacting The Holistic Center, 1505 Commonwealth Avenue, Brighton. 800-557-5699. http://www.THCevaluation.com.