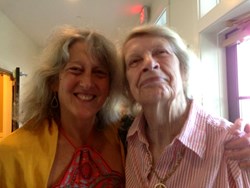 More and more women want to tune in with the witch's values.
Portland, Maine (PRWEB) August 13, 2013
"What if your mother were a witch," begins a new article in the Women section of the popular Huffington Post blog. "Do you think she would have done things differently than other mothers?" The author of the post, poet, writer and self-identified witch Annie Finch, describes how her mother raised her five children in ways that Finch now understands to be "witchy," long before that word was used to describe the religion known more formally as Wicca.
Wicca is now the fifth largest religion in the US, after Christianity, Judaism, Islam, and Hinduism, and it has been one of the fastest-growing religions in the United States over the past two decades. Wiccans believe in the sacredness of nature and the body and the simple creed "if it harms none, do what you will." They may worship a range of goddesses and gods.
Finch's mother taught her children reverence for nature and respect for all animals—even spiders, whose webs she put up hand-lettered signs to protect. She believed in respecting each individual's path and had a deep sympathy for reincarnation. She let her children play naked, which Finch points out is a preferred state for Wiccan worship.
Today, at age 92, Finch's mother worships Goddesses and wears a necklace with a pentacle, the symbol of the Wiccan religion. The pentacle was officially recognized by the US government as a religious emblem suitable for the decoration of veterans' graves in 2007, after a ten-year battle by Wiccans.
Some claim that Wicca descends from Neolithic fertility cults, while others trace its roots to 20th century British intellectuals. "There is a controversy about the history of Wicca now," Finch says, "but any tradition venerable enough for [my mother] is good enough for me."
Interest in Finch's article, which has been shared widely on Facebook as women pass it on to their mothers, daughters, and friends, is part of new surge of enthusiasm for women-centered spirituality in our culture, says Finch. "More and more women want to tune in with the witch's values of honoring female-centered spirituality, revering earth and the body, and respecting the spiritual autonomy of each individual. But a lot of this spirituality does not yet qualify as "religious" according to current definitions of that term."
Finch, who has recently published a book of poetry called Spells and is working on a book entitled American Witch, hopes to raise wider awareness of the religion she credits with improving her own life and describes as "a source of harmony, joy, and power for women and men."
Annie Finch is the author of more than twenty books. Her poetry has been featured on Def Poetry Jam, Carnegie Hall, and the Metropolitan Museum of Art. Educated at Yale and Stanford, she lives in Portland, Maine where she directs the Stonecoast MFA Program in Creative Writing. She is at currently writing a memoir entitled American Witch.