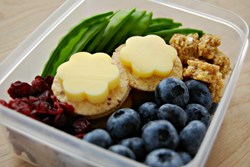 New York, NY (PRWEB) August 14, 2013
Bento-style lunches are fun, delicious and nutritious bring-along options. Bentos, or Japanese boxed lunches, are also convenient, perfectly portioned and feature wholesome, high-quality ingredients instead of processed foods. Parents like these lunches, too, because they are easy to make and budget-friendly, since many ingredients used can be leftovers. They can also be adapted for vegan, vegetarian, gluten-free and allergy-friendly eaters.
Here are some tips to remember when making bento-style boxes:
Make It Tasty and Safe
Pick four to six well-balanced ingredients. For school lunches, consider less perishable foods such as rice or noodles, a variety of fruits and raw vegetables and cheeses that are semi-firm or hard in texture. Pick foods that can be stored at room temperature and keep perishable items cool with an insulated lunch bag, cold pack or frozen juice carton.
keep It Simple
Bento makers can get very creative, spending scads of time making intricately crafted works of art. Keep your assembly time, however, to twenty minutes or less. Even the most plain and simple bento can be delightful.
Have Fun
Use cookie cutters to create eye-catching shapes with minimal effort. Insert finger foods in reusable colorful silicone baking cups or petite containers, for moist ingredients. Send words of encouragement on whimsical note papers.
Ready to make tomorrow's bento lunch? Below are two tasty gluten-friendly options. Don't forget to pack napkins, a cool pack and beverage of your choice to complete your laptop lunch.
Three-Section Container Bento Lunch
Ingredients:
Oven roasted turkey breast
Goat's milk cheddar cheese (such as Woolwich Dairy), cut julienne style
Mixed greens
Gluten-free tortilla wrap
Gala apple
Gluten-free granola
Non-perishable condiment packet
Coconut macaroons
Instructions: Roll slices of oven roasted turkey breast, goat cheddar and mixed greens in a gluten-free tortilla wrap. Secure with toothpicks and cut sandwich to fit inside the largest section reusable container. Next, cut a Gala apple in half then arrange the slices over ¼ cup of gluten-free granola placed in a smaller section. Add two homemade coconut macaroons for a sweet treat in the remaining section along with a non-perishable condiment packet.
Square Container Bento Lunch
Ingredients:
Jarlsberg, a part-skim cow's milk cheese (regular or reduced fat version)
Gluten-free crackers
Snow peas
Blueberries
Cranberries
Gluten-free granola
Instructions:
Cut cheese into ¼" thick slices. Use tiny fondant icing or mini cookie cutters (you can find these at craft stores) to make eye-catching shapes. Alternate eight cheese shapes with gluten-free crackers and place in two stacks in the middle of the container. Wash and dry one cup each of snow peas and blueberries then carefully arrange on opposite sides of the cheese and crackers. Fill the remaining spaces with ¼ cup of dried cranberries and granola.
Tip: Leftover cheese from shapes can be saved in a container for quick breakfast add-ins or a mid-week grilled cheese.