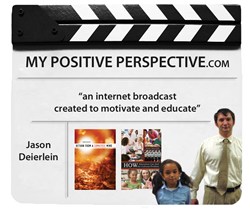 We are fortunate that we can provide these fun activities for children in our area
Charleston, SC (PRWEB) August 13, 2013
On August 12, 2013, My Positive Perspective aired an episode that centered on the First Day Festival. Appearing in the episode along with My Positive Perspective founder Jason Deierlein was Secrets to Being Happy founder Jodi Riley. The two discussed the importance of students being able to have one last fun day before they get ready to concentrate on the upcoming school year.
In the beginning of the episode, Deierlein states, "Education is one of the main points of emphasis for my business, and this event is designed at ensuring that the kids have one last fun day before they hopefully get serious about school." Deierlein continues, "The event is held at the aquarium on Sunday August 18th from 1 until 4." Deierlein then turns to Riley and asks, "As a child, how important was it to you to have one last fun day before getting ready to tackle another year at school?"
Riley responds to the question by saying, "As a kid I would have liked to enjoy summer more, my family owned a grocery store that I worked at in the summer. However, getting that last little time where I could just be a kid and have fun would have been awesome." Riley continues, "We all need periods of rest and play in between our work." Deierlein then points out the benefits of the Charleston areas when he says, "We are fortunate that we can provide these fun activities for children in our area being close to the water and the many activities that surround our great city."
My Positive Perspective is a media outlet believing that improvement in our community will be best achieved by focusing on the good things happening in our world today. Having survived a near fatal car accident as a youth, a shift of perception forced one to have a mentality of always concentrating on the brighter sides of things. This was true, and in my book, Return From a Comatose Mind, this belief was put to the test. Appreciation for life was the biggest thing one took away from my brush with death, and it is because of that gives me such a huge desire to be helpful to many. My Positive Perspective is a way of overcoming challenges.