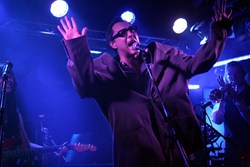 With music, you often don't have to translate it. It just affects you, and you don't know why.
Falls Church, VA (PRWEB) August 13, 2013
Labor Day weekend in the DC suburb of Falls Church,VA will have a little different feel to it than usual. Baltimore based Talking Heads tribute band, Psycho Killers, will take over the State Theatre for a night of spot-on recreations of your favorite Talking Heads songs.
Formed over 5 years ago, Psycho Killers have been wowing audiences with their high energy shows and accurate depiction of one of the most eclectic bands in Rock & Roll history! After their sell out show in DC earlier this year, the band felt it was time to play a bigger venue and they set their sights on the State Theatre. At over 75 years old, the State Theatre continues to be one of the top venues for live music in the DC area. Everyone from Bela Fleck, Greg Allman, Les Claypool, Mike Gordon, Wu-Tang Clan and more have graced their stage. "Its an honor to play such an amazing venue," said Psycho Killers front man Jon Wood. "Not only is it one of the top venues in the area, its also one of the nicest in the country."
Expect to see a mix from the expansive catalog of Talking Heads. Songs like "Burning Down the House" and "Naive Melody" and older cuts like "Found a Job" and of course the eponymous "Psycho Killer."
"We want to play the songs everyone wants to hear, but at the same time, expose people to songs that we really like that they may or may not already be familiar with," remarked Wood. "To be able to play this music in such an historic venue is really a treat for us!"
DC based band, The Shifters will be opening the show with their unique blend of funk, ska, reggae and rock. Doors are at 8 and the show starts at 9. 18 and up are welcome. Tickets are $12 in advance or $15 at the door.
The State Theatre will never be the Same As It Ever Was!