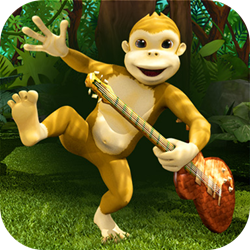 It is exciting to see how technology can further complement education and help students develop their appreciation for music.
Atlanta, Georgia (PRWEB) August 15, 2013
Wasabi Productions today announces the launch of new storybook, Gorilla Band, and its support for American not-for-profit VH1 Save the Music Foundation this back to school season. Ten percent of proceeds from app sales will go to benefit the charity's work in restoring instrumental music education programs in America's public schools, and raising awareness about the importance of music as part of each child's complete education.
Music is widely regarded as an important part of a well-rounded education, and helps with skills in literacy, "discriminating sounds fosters phonological awareness, or awareness of the sound structure of language - an important emergent literacy skill" (Core Knowledge Preschool Sequence and Teacher Handbook). Music is also thought to enhance the process of learning. The systems it nourishes, which include our integrated sensory, attention, cognitive, emotional and motor capacities, are shown to be the driving forces behind all other learning (Konrad, Empathy, Arts and Social Studies).
"We are grateful to Wasabi Productions for their generous support of our cause," said Paul Cothran, Vice President and Executive Director of the VH1 Save The Music Foundation. "It is exciting to see how technology can further complement education and help students develop their appreciation for music."
Gorilla Band places the reader at the center of the story, unfolding through their interaction, and takes place in a dynamic and dazzling 3D jungle set. It comes complete with original animations, a myriad of originally scored instrumental tracks, 2 songs, a dance and an educational studio where readers can learn to identify instruments by sound and name.
The storybook introduces gorillas at Jungle Music School learning piano and violin, and after a serendipitous exposure to tunes from other rock star jungle musicians, sees them enthusiastically form a band and write a song with everything from Drums to Double Bass.
Graham Nunn, Creative Director for Wasabi says, "At its heart Gorilla Band is a memorable story with a strong moral outtake, and it gives families and schools the ability to expose children to music with authenticity and ease." It also helps with early literacy through word highlighting as well as listening and comprehension skills.
It is available from Thursday 15 August as a universal app for iPad, iPhone and iPod Touch for $3.99 (Educational institutions discount applies through iTunes). Launching soon on Google Play and Kindle stores. See early reviews and download links here. Special launch price of $0.99 applies.