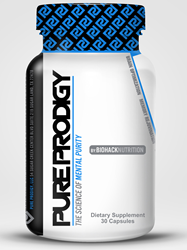 The number of hours you sleep isn't everything. What's really important is the quality of the sleep you get
Houston, Texas (PRWEB) August 14, 2013
According to the National Institute of Neurological Disorders and Stroke (http://www.ninds.nih.gov/disorders/brain_basics/understanding_sleep.htm), about 60 million Americans suffer from some sort of sleeping problems. From chronic, long-term sleep disorders to occasional sleeping problems, sleep issues of all types can lead to stress and a range of other health issues. But now, there's hope for those struggling to get a good night's sleep. Huperzine-A, a key ingredient in the soon-to-be-released brain supplement Pure Prodigy, has been shown to help those who take it get a better night's sleep.
In a January 2013 Huffington Post article (http://www.huffingtonpost.com/tim-ferriss/11-tricks-for-perfect-sle_b_2527454.html), it was revealed that taking 200 micrograms of Huperzine-A prior to bed could increase total REM sleep time by 20 to 30 percent.
"The number of hours you sleep isn't everything. What's really important is the quality of the sleep you get," said Jonathan Weisman, Founder of Biohack Nutrition, the manufacturers of Pure Prodigy. "REM sleep is a very important part of the sleep cycle. When we dream, we're typically in REM sleep. That's when the brain regions we use in learning are stimulated. Getting enough time in the REM sleep cycle is important to getting a good night's sleep."
Huperzine-A is derived and purified from a plant known as Chinese club moss. While commonly used for memory enhancement and treatment of age-related mental decline (including Alzheimer's disease), Huperzine-A's sleep aid benefits were of particular interest to Weisman.
"The fact is that Pure Prodigy is loaded with brain vitamins that help with improving memory, increasing concentration, and boosting overall brain function. While Huperzine-A plays an important role in these areas, the fact that it can also help our customers get a better night's sleep is really beneficial. When you get proper rest, your mind works better and you feel better. It's just another way Pure Prodigy helps you live a better life," said Weisman.
For more information on Huperzine-A or Pure Prodigy, visit http://www.PureProdigy.com .