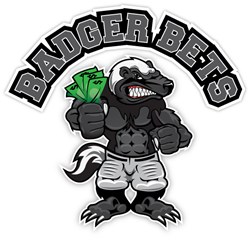 (PRWEB) August 14, 2013
Badger Bets is a free iPhone app that lets sports fans bet against their friends! Badger Bets includes up-to-date schedules, odds and scores for all major sports including: NFL and NCAA football, NBA, MLB, NHL, Boxing, MMA, Golf and NASCAR. All games include up-to-date point spreads, money lines and over unders. Fans can also bet straight-up or head to head against friends with no point spread.
Badger Bets uses a fake virtual currency called "Badger Bucks" to keep score between friends. Challenge yourself and friends to see who is the best sports better and climb to the top of your personal friends leaderboard. Seasoned sports betters can take on the "House" and rack up "Badger Bucks" to reach the top of the Badger Bets community leaderboard.
"Badger" your friends with real-time audio taunting sound effects or send them in app text messages to talk about the game! Audio sounds included chicken and bear growls to taunt friends in real time.
Badger Bets is a free download for the iPhone and players are NOT required to purchase in app currency like other similar mobile apps. Badger Bets is the only no cost peer to peer betting app currently available for the iPhone.
Fans are raving about Badger Bets:
"It's so simple and fast I use it almost every day to bet with friends" John from Long Beach
"The one app that let's you get down with your buddies on the QT" Marc from Los Angeles
"The interface is simple, fast and has all the games. Easy to bet with friends Love it!" Tracy from San Francisco
"A great utility for any sports fan who likes to bet with friends" Joe from New Jersey
Badger Bets was created by Las Vegas based Brand ERP LLC. Our founding partner team is passionate about everything sport betting and have previously worked for The Wynn Las Vegas and Yahoo!