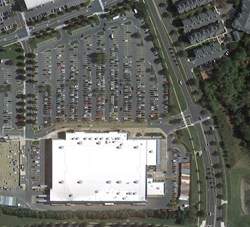 Walmart traffic measurements can be used as a powerful predictive tool in gauging the overall health of the American consumer.
Chicago, IL (PRWEB) August 13, 2013
Over the past three consecutive quarters, retail giant Walmart has reported flat to negative customer traffic at their US locations, increasingly putting pressure on management to deliver positive US transaction growth for the upcoming second quarter of FY 2014 (Kantar Retail). A recent satellite imagery-based parking lot traffic analysis from RS Metrics confirms that the second quarter is looking up for Walmart, and expects positive US traffic growth to be announced by the company in mid-August.
According to Walmart's first quarter FY 2014 transcript (investors.walmartstores.com), most of the -1.4% comparable sales decline was related to an increase in the payroll tax, delayed income tax returns, and a fierce cold weather pattern over a large portion of the country. During the quarter, RS Metrics measured a -2.0% drop in car traffic while Walmart ultimately reported a -1.4% comp (US, without fuel), comprised of a -1.8% traffic decline and a 0.4% average ticket increase.
For the current quarter (2Q14), RS Metrics analyzed satellite imagery of over 4,000 US Walmart store locations resulting in an estimated 1.0% increase in car traffic year-over year, which should help contribute to a positive comp. However, any positive comp will be dependent on Walmart's ability to continue to grow average ticket as they have for multiple quarters in a row (investors.walmartstores.com). RS Metrics measured positive traffic growth for Walmart during each month of the second quarter with a 1.3% traffic increase in May, 0.2% in June, and 1.7% in July, which could be attributed to a better weather pattern throughout these months. According to Walmart's Investor Relations website, second quarter FY 2014 earnings will be reported on August 15th, 2013.
"Walmart traffic measurements can be used as a powerful predictive tool in gauging the overall health of the American consumer," says Tom Diamond, President and CEO of RS Metrics. "Our experience in measuring 13 quarters of Walmart traffic growth in a row shows us that the frequency of shopping trips made by the Walmart consumer often determines the direction of the US economy overall. We are pleased to see a rebound in Walmart traffic at the start of the back-to-school season but recognize it's occurring within a highly competitive and promotional environment that may not bode well for all retailers."
Remote Sensing Metrics, a Chicago-based consultancy, performs quantitative analysis of satellite imagery to measure weekly, monthly, and quarterly traffic and market share growth at over twenty major retailers and restaurants. Traffic measurements for each retailer correlate with transaction growth and often contribute to improved same store sales forecasts. RS Metrics' Walmart traffic measurements are a primary driver of the RS Metrics Retail Index which aims to correlate with the monthly releases of US Census Retail Sales data. RS Metrics traffic growth measurements for selected retail names and indexes are also released quarterly on Twitter (@RSMetrics).
About Remote Sensing Metrics, LLC
RS Metrics provides investor and corporate clients with proprietary insights and data based on quantitative analysis of satellite imagery, overlaid with open source information such as store locations, demographics and climate data. We analyze satellite images of thousands of retail and industrial locations each week and use our proprietary methodology and data models to produce valuable metrics including traffic and market share growth, ranking of top competitor stores in an area by traffic (revenues), shopper conversion/close rates (cars outside vs. transactions inside), and industrial production and employment growth. We partner with leading satellite imagery companies for global coverage and technical capabilities, and have access to several years of historical imagery in our archives. RS Metrics was founded in 2009 by executives from corporate and investor strategy consulting, satellite imagery, and geographic information systems companies. For more information visit http://www.rsmetrics.com.