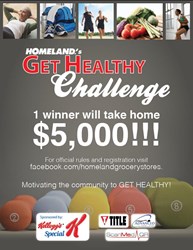 I'm really excited to see the long-term impact this will have on our community.
Oklahoma City, OK (PRWEB) August 12, 2013
Homeland Grocery Stores is reaching out to Oklahoma residents age 18 and older to participate in the company's first ever "Get Healthy Challenge", sponsored by Kellogg's Special K, Title Boxing Club, ScanMed QR and Advanced Body Scan. The Homeland Registered Dietitian, Alyson Dykstra, developed the challenge and says she is "really excited to see the long-term impact this will have on our community."
The 16 week Homeland's Get Healthy Challenge is a comprehensive, long-term commitment to provide Customers with the education and resources they need to make sustainable, healthy decisions for both themselves and their families. The 2013 contest will unite community members as they work together to reach their health goals during the 16 week challenge.
The challenge will begin on October 5th, 2013 and will kick off with a two day Wellness Camp which will consist of two days of intense fitness and nutrition training, where the contestants receive personalized instruction on cooking, meal planning, fitness and other behaviors needed to begin a healthy lifestyle. During Wellness Camp, contestants also receive a baseline screening and education on key biometric numbers so they can track their health improvement.
After Wellness Camp, contestants will meet with the Homeland dietitian at their local store to apply their nutritional know-how as they purchase healthy food to restock their pantry.
The challenge will end on January 25th, 2014 with a 5K race where contestants will compete alongside community members and demonstrate how far they have come in their commitment to better health. Following the race the final weigh-in will occur and one contestant will receive the Grand Prize of $5,000.
To apply to be a contestant in the Get Healthy Challenge go to http://www.homelandstores.com/Promotions.aspx or visit https://www.facebook.com/HomelandGroceryStores. Official rules and the participant applications can both be downloaded at either location. All applications and entry photos must be submitted to hacdietitian(at)gmail(dot)com by August 31st, 2013 at 11:59 pm CDT.