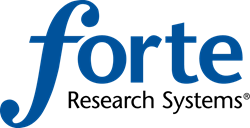 Madison, WI (PRWEB) August 13, 2013
Forte Research Systems, Inc., developer of specialized clinical research software, is pleased to announce a two-year partnership with the Society for Clinical Research Sites (SCRS), a trade organization that represents global clinical research sites. Forte's Director of Partnerships, Brian Wulff, states, "As a technology provider dedicated to site success for the last 13 years, Forte shares the goals and concerns of sites. SCRS has built an important forum for site advocates from all parts of the industry and we look forward to participating in this compelling initiative to advance change."
The SCRS is the first organization fully dedicated to representing the interests of sites by providing them the ability to participate in discussions and decisions that ultimately impact clinical research sites and the industry as a whole. The community aspect of the organization helps to give sites a stronger, more credible voice and a shared purpose. Their mission is to advocate, connect, educate, and mentor over 1,300 sites that they represent in 20 countries.
As a Global Impact Partner (GIP), Forte joins other SCRS industry partners such as Eli Lilly and Company and Roche, to ensure the ongoing development, feedback, and support of industry initiatives designed to include and improve the voice of sites. Wulff will also serve on the GIP Board, which will regularly meet with the SCRS Leadership Council to set strategic initiatives for the organization. The first meeting will coincide with this year's Site Solutions Summit in October, at which, topics will range from operational management to subject retention, and more.
Regarding the partnership, Christine Pierre, President of SCRS, stated, "SCRS is pleased to have Forte, a recognized industry leader and supporter of sites, join SCRS as a Global Impact Partner. This commitment continues to illuminate their interest in lending their expertise and support for and to the site community."
About Forte Research Systems
Founded in 2000 and headquartered in Madison, Wisconsin, Forte Research Systems, Inc. develops and markets clinical and translational research software for better research compliance, patient safety, operational efficiency, and financial viability. The company's flagship product, the OnCore Enterprise Research system, has been meeting the needs of academic medical centers, CTSAs, research hospitals, and cancer centers for over a dozen years. Now, its proven electronic data capture platform is available as a stand-alone hosted solution for academic researchers, Overture™ EDC. For research sites, site networks, and SMOs, Forte offers Allegro® CTMS.
About SCRS
SCRS is a trade organization representing global clinical research sites representing 1,300 sites in 20 countries since its launch in October 2012. SCRS' mission is to unify and amplify the voice of the global clinical research site community. SCRS has become an active partner in industry-wide dialogues focused on improving the clinical research enterprise among the many industry initiatives. Sites, as well as companies that sponsor or support the work conducted at the clinical research sites, will also benefit from membership.