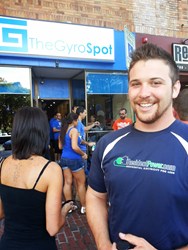 ...75% of the dozens of people that they talked to either had not made the switch or didn't know it was an option.
Manchester, NH (PRWEB) August 13, 2013
On Wednesday August 7th, Resident Power launched its first of three permitted promotions of its alternative energy supply program since 2011 and ongoing cheaper electricity supply options by picking up the tab for parking meters in a section of downtown. The Pay for Parking event, hosted in front of the UPS store on 816 Elm St. Manchester, NH, was complemented by beautiful skies, a friendly public, and a visit by Mayor Ted Gatsas. Resident Power was greeted by business owners and onlookers within minutes of arriving. Megan McLaughlin, RPs' Customer Relations Director, commented, "Business owners came out and greeted us with handshakes and good wishes, we were even invited to lunch."
The parking meters saw the most traffic as Resident Power employees manned three meters in the area, and were able to ask the public, "…did you know New Hampshire had a choice in Electricity supply?" It was estimated by the team that 75% of the dozens of people that they talked to either had not made the switch or didn't know it was an option. As the day went on, more and more people stopped by the information booth to ask questions. Managing Director Bart Fromuth commented, "Our suspicions were more or less confirmed today about the overall lack of experience that the New Hampshire public has had with supply choice, and furthermore the over exposure of messages from competitors to the public may very well be significantly ignored by the public."
The pay for parking promotion received a lot of attention even prior to the day of the event. With press releases being picked up by many outlets in New England and a placement in the more local publication of The Union Leader, Resident Power felt some pressure to make sure that this went off without any issues. "We knew that it was an exciting idea but the attention could not have been better for us. Our team pulled together and surpassed our expectations by setting up the event, getting the information out there, and simply getting to talk to those citizens," recapped Fromuth.
In one of the more notable exchanges with potential customers, upon picking up a business card of McLaughlin's, the consumer realized, "Wait, you're the Megan from the Chat window!" referring to the latest addition to the Resident Power website that allows visitors to ask questions and too often talk with Megan of Manchester, NH.
The promotion continues August 14th and 21st, New Hampshire Residents will be given the opportunity to speak and ask questions with Resident Power staff, share email addresses and even enroll if they happen to have their PSNH bill.
Resident Power was the first to offer competitive electric choice in New Hampshire and has been serving customers since March of 2011. It celebrated its second birthday earlier this spring and is now able to offer rates to both PSNH and the New Hampshire Electric Co-op customer base.
Resident Power is a family owned business and is part of the Freedom Logistics family of energy companies. Resident Power is the official electricity partner of the Retail Merchants Association of New Hampshire, and the state's largest residential electricity aggregator.