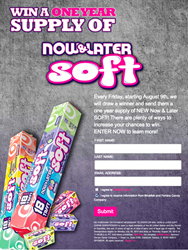 Now & Later Facebook fans can enter for the chance to win a one-year supply of Now & Later SOFT.
Chicago, IL (PRWEB) August 13, 2013
Now & Later has launched a campaign on its Facebook page inviting fans to enter for the chance to win one of four one-year supplies of new Now & Later SOFT.
The campaign is located on the Now & Later Facebook page and aims to engage existing fans as well as attract new fans. All fans of the page can enter the sweepstakes once per day for the duration of the campaign.
"By offering a Now & Later candy prize we will attract true fans and create a community of brand advocates," said James Mattikow, Chief Commercial Officer - Corporate for Ferrara Candy Company. "This campaign gives us the opportunity to tell fans there is a softer Now & Later option and raise awareness about Now & Later SOFT."
Now & Later turned to Brickfish, a leader in social, mobile and digital solutions, to build and manage the social campaign.
"Fans are very excited about the new Now & Later SOFT products. They are engaging across social media channels and showing their enthusiasm with the chance to win one year's worth of Now & Later candy," said Michael Mullarkey, President of Brickfish. "Engaging our fan base on the Now & Later Facebook page is driving a larger social audience, enhancing product revenue and setting the stage for more interactive campaigns in the future."
Now & Later will draw a new winner every Friday for 4 weeks beginning August 9, 2013. Fans can share the campaign with their friends or become a fan of other Ferrara Candy Company Facebook pages including Lemonhead, Black Forest, Trolli or Brach's to increase their chances of winning. The NEW Now & Later SOFT Sweeps concludes on August 29, 2013.
About Ferrara Candy Company
Ferrara Candy Company is the leading non-chocolate confectionary company in the U.S., with a portfolio of strong brands and retail partnerships. With a candy for every craving, Ferrara Candy Company brands make consumers happy every day and include: TROLLI®, BLACK FOREST®, BRACH'S®, LEMONHEAD®, NOW & LATER®, SATHERS®, BOBS®, RED HOTS®, ATOMIC FIREBALL®, CHUCKLES®, BOSTON BAKED BEANS, SWEET STRIPES®, SUPER BUBBLE®, FRUIT STRIPE®, RAIN-BLO®, JUJYFRUITS® and JAWBUSTERS®.
About Brickfish
Brickfish applies proprietary technology to build and manage social, mobile and digital solutions that drive engagement and generate revenue. Based in Chicago, Brickfish has worked with leading brands including Samsung, Microsoft, Neiman Marcus, Zappos, Nike, Vera Bradley and Ferrara Candy Company. Since 2005, Brickfish campaigns have driven over 650 million consumer engagements. Brickfish is a 2013 Platinum and Gold Hermes Award winner, 2012 MarCom Platinum and Gold Award winner, Red Herring Global 100 winner and an OMMA Award winner for Best Viral Campaign.