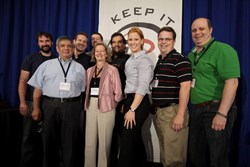 Our clients have the added benefit of knowing they're partnering with a company that's here for the long haul
Norwalk, CT (PRWEB) August 16, 2013
Aegis Technology Partners (http://www.aegistp.com), an IT Support Company based in Norwalk, CT is pleased to announce that it won the Robin Robins Producers Club Accountability Group of the Quarter.
"We couldn't have done it without the help of our peers", said Jay Parisi, Partner at Aegis. "The award is given as a group, and we weren't alone in receiving it. Everyone worked hard at building our businesses this year and it's really starting to show" Parisi went on, referencing the other members in the group; Keith Carrizosa of Azure Horizons (azure-horizons.com), Bob Milliken of Cascadia Systems Group (cascadiasystemsgroup.com), Kim Nielsen of Computer Technologies Inc (cti-mi.com), Matt Weaver of Echo Systems (echosystems.us), Bob Michie of MetroMSP (metromsp.com), Kevin Justus of Shoreline Information Technologies (shorelineit.com), Sean Robertson of Strategic Technology Associates Inc (stai.ca), and Chris Burns of Techie Gurus (techiegurus.com).
The Accountability Group, known as the Accelerators, has weekly conference calls and quarterly meetings with the intent of assisting and holding one another accountable towards business goals. "It's like having a board of directors" Parisi added. "Our clients have the added benefit of knowing they're partnering with a company that's here for the long haul and has outside resources we can call on."
The Accelerators is one of 30 groups consisting of 270 member companies that represent some of the top IT companies in the world. The award recognizes the best improvement from Q1 to Q2 based on revenue, monthly contracts and income.
About Aegis Technology Partners:
Aegis Technology Partners is a network support company based in Norwalk, CT. Aegis specializes as a managed service provider offering IT support, network support, cloud services, VoIP phone systems and other types of computer support.