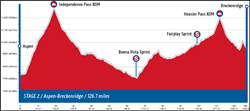 Ski Country Resorts in Breckenridge, CO is running a Breck Bike lodging special- 10% off ALL LODGING Aug. 15-22. BOOK ONLINE TODAY!"
Breckenridge, CO (PRWEB) August 13, 2013
Stage two of the US Pro Cycling Challenge takes place in Breckenridge, Colorado this year and begins Stage 3 on route to Steamboat Springs. The USA Pro Cycling Challenge is known as "America's Race" and is an annual multi-day professional road cycling race that first took place in Colorado in 2011. The race is marked especially by the incredible altitudes (over 12,000 feet) and awe-inspiring athletes that compete for the coveted titles.
"I've never seen so many people in Breckenridge, ever. People are on rooftops, lining the streets and hanging from every available vantage spot in town. The excitement is palpable and that's why we decided to create a specially priced lodging package this year, so everyone can afford to stay in Breck and watch the most exciting event we have ever had," said Tiana Shelton of Ski Country Resorts.
"The tough part of this event is that it takes place on Tuesday and Wednesday in Breckenridge, so we decided to name discounted promotion, 'Bike Week' so you can get the great rates all week long," said Shannon Sinnard of Ski Country Resorts. She continued, "Most people are working on Tuesday and Wednesday, but this town is bike heaven during the summer months and well into fall too."
On August 20, the familiar battleground of Independence Pass will be anything but easy as riders ascend the 12,000 ft. climb, the highest point reached in any professional cycling race. Then they'll continue on through some familiar spots as the race blasts through Buena Vista, Fairplay and Alma, before tackling the grueling Hoosier Pass from the south this year. But it's not over until it's over, so before crossing the line the riders will have to conquer the nasty 15 percent grade of Moonstone Rd. in the heart of Breckenridge, before bombing down Boreas Pass to the waiting crowd.
"Whatever type of cycling you prefer is fabulous here in town. We have miles and miles of single track for the mountain bike enthusiasts, weaving throughout trails that range from fairly easy to downright gnarly, kinda like our ski mountain. In fact, you can actually ride up the lift with your cycle attached to the lift and ride down ski runs," continued Shannon.
Tiana added, "If singletrack and 4,000 feet of elevation climbs aren't your idea of a good time, then take in the Summit County paved bike path. Starting in Breckenridge, the trail stretches all the way to Dillon or the other direction to Vail and beyond. Along the way you can see the abundant wildflowers or race the rushing Blue River, take in the incredible beauty of riding through the mountains, and admire Lake Dillon with their summertime sailboat regattas. This ride is perfect for all ages and has very few small climbs, making the path an easy and a truly unforgettable ride."
Shannon added, "If you can't make it for the US Pro Cycling Challenge, join the Breck Nation August 15-18, 2013 for Breck Bike Week. They offer everything from bike demos and races to beginner classes and the infamous Bike Bus tour down Main Street. Then the US Pro Cycling Challenge is on. The riders will finish in Breckenridge on August 20th and wake up the next morning to begin their next stage on August 21st! Ski Country Resorts in Breckenridge, CO is running a Breck Bike lodging special- 10% off ALL LODGING Aug. 15-22. Booking could not be easier. Simply go to http://www.skicountry.com and the discount will be automatically applied."
In summer, Breckenridge is a fun-filled adventure town with endless opportunities to explore the raw power of Mother Nature. Prospectors discovered gold when they founded Breckenridge in 1859. The people who today call Breckenridge home are fostering a whole new set of riches: a swiftly growing "Made-in-Breck" scene that ranges from superfast skis and handmade bicycle frames to award-winning bourbon and fine foods; a flourishing Arts District; an unmatched trail system and bike-friendly community; and a resort that's known for winter but delivers big fun all summer long. Founded more than 150 years ago by prospectors in search of gold (and they found it), Breckenridge still attracts travelers in search of adventure.