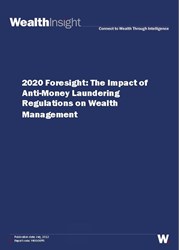 Rockville, MD (PRWEB) August 15, 2013
2020 Foresight Report: The Impact of Anti-Money Laundering Regulations on Wealth Management
Governments and regulatory bodies have taken numerous measures to curb money laundering activities in the last decade. The phenomenon has assumed increased urgency since 2008–2009 when economies across the world, developed nations in particular, were severely impacted by the financial crisis. Following the global economic slowdown, a number of regulations have been enforced; proposals for the Fourth Money Laundering Directive by the European Commission (EC) in 2013, the launch of new FATF money laundering recommendations in 2012, and the Foreign Account Tax Compliance Act (FATCA) in the US are key recent developments in global AML regulation. These initiatives are intended to strengthen the global AML regulatory environment and increase pressure on financial institutions to comply.
The report provides a detailed overview of anti-money laundering (AML) initiatives taken by governments and regulatory bodies across the world to combat rapidly growing money laundering activity.
Key Highlights:

The rapid growth of money laundering and other illicit activities has become a major issue for governments and financial institutions across the world.
Fighting money laundering has become a priority for governments and other international bodies, which are increasingly concerned about the consequences of these illicit activities on corporate governance and business operations in the financial sector, as well as the overall fundamentals of the world economy.
Governments and regulatory bodies across the world have been tightening regulations to combat money laundering. Economies such as the US, the UK, Germany, Australia, Japan and Singapore have strong AML regulations in place, while Canada, Brazil, Russia, India and China are taking initiatives to introduce AML regulations.
Financial institutions face a number of operational and technological challenges due to changes in regulations. These entail increased regulatory complexity and improvements in IT systems, documentation and record keeping. Reduced customer privacy is also expected to be a rising concern, due to increasing disclosure and information sharing requirements.
To order this report:
2020 Foresight Report: The Impact of Anti-Money Laundering Regulations on Wealth Management
Contact: Shauna
800.298.5699
Customerservice(at)marketresearch(dot)com
About WealthInsight
WealthInsight provides detailed data and insightful analysis on the world's High Net Worth Individuals (HNWI) and wealth sector. With decades of experience providing business information, WealthInsight helps organisations to make informed decisions and win new business.
At WealthInsight's core are our proprietary Dossiers of the world's wealthiest individuals. Around this database we have built a number of valuable research based products and services that make WealthInsight much more than just a rich contact list.
About MarketResearch.com
MarketResearch.com is the leading provider of global market intelligence products and services. With research reports from more than 720 top consulting and advisory firms, MarketResearch.com offers instant online access to the world's most extensive database of expert insights on global industries, companies, products, and trends. Moreover, MarketResearch.com's Research Specialists have in-depth knowledge of the publishers and the various types of reports in their respective industries and are ready to provide research assistance. For more information, call Cindy Frei at 240.747.3014 or visit http://www.marketresearch.com
Follow us on Facebook http://www.facebook.com/marketresearchdotcom
Follow us on Twitter http://www.twitter.com/marketresearch_
2020 Foresight Report: The Impact of Anti-Money Laundering Regulations on Wealth Management – Table of Contents:
1 What is this report about?
2 Executive Summary
3 Money Laundering Global Market Dynamics
4 Key Operational and Technological Trends and Challenges
5 Key Regulatory Trends and Impact Assessment
6 Global Compliance Spending Trends
7 Best Practices in AML Compliance
8 About WealthInsight
List of Tables
Table 1: List of Banks Which Were Imposed Money Laundering Sanctions, 2012–2013
Table 2: Key Destinations for Offshore Wealth, 2011
Table 3: FATF's Member Countries and Organizations, as of June 2013
Table 4: FATCA Regulations and Impacts
Table 5: AML Regulations Enacted or Amended in the US, 1970–2004
Table 6: Evolution of AML Regulations in the UK, 1993–2012
Table 7: Provisions Under Proceeds of Crime (Money Laundering) and Terrorist Financing Act
Table 8: Documentation Under KYC Process
Table 9: Global AML Compliance Spending (US$ Million), 2008–2017
Table 10: Global AML Compliance Operations Spending (US$ Million), 2008–2017
Table 11: Global AML Compliance IT Expenditure (US$ Million), 2008–2017
Table 12: Global AML Compliance Software Spending (US$ Million), 2008–2017
Table 13: Leading AML Vendors and Type of Solutions Offered
Table 14: FATF Recommendations, 2012
Table 15: AML/CFT Policies and Coordination
Table 16: Money Laundering and Confiscation
Table 17: Terrorist Financing and Financing of Proliferation
Table 18: Preventive Measures
Table 19: Transparency And Beneficial Ownership Of Legal Persons and Arrangements
Table 20: Powers And Responsibilities of Competent Authorities and Other Institutional Measures
Table 21: International Cooperation
List of Figures
Figure 1: AML Regulatory Enforcement Levels Across the World
Figure 2: AML Regulatory Impact on End Markets
Figure 3: AML Regulatory Developments, 2010–2013
Figure 4: AML Challenges and Their Importance Among Financial Institutions
Figure 5: Emerging Regulatory Trends and Impact Analysis
Figure 6: AML Regulations in the US
Figure 7: Impact of AML Regulations on Financial Institutions in Hong Kong
Figure 8: Global AML Compliance Spending (US$ Million), 2008–2017
Figure 9: Global AML Compliance Operations Spending (US$ Million), 2008–2017
Figure 10: Global AML Compliance IT Expenditure (US$ Million), 2008–2017
Figure 11: Global AML Compliance Software Spending (US$ Million), 2008–2017
Figure 12: Case Study – Wegelin's Non-Adherence to AML Regulations
Figure 13: Case Study – Capital Bank's Use of the SAS AML Solution
Figure 14: Case Study – BCA Deployed AML Solutions From NICE Actimize
Figure 15: Case Study – RBI Penalized Axis Bank, HDFC Bank and ICCI Bank
Figure 16: Case Study – US Allegations Against HSBC of Violating CDD Requirements