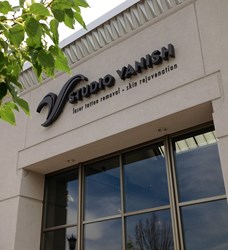 We are pleased to provide the utmost standard of patient care and laser tattoo removal technology to the Denver metro area!
-Dr. James Vetter
Owner
Greenwood Village, CO (PRWEB) August 20, 2013
Studio Vanish – Laser Tattoo Removal & Skin Rejuvenation has opened their flagship clinic at Belleview Promenade, an upscale and conveniently located retail shopping area in Greenwood Village, Colorado.
Studio Vanish is a medical facility offering the discerning client a results-driven solution for skin rejuvenation and scar-free tattoo removal. Founded by Dr. James Vetter, an accomplished and highly respected Oral & Maxillofacial Surgeon, Studio Vanish has a unique menu of services consisting of laser facials, chemical peels, laser tattoo removal and the highly popular and effective HydraFacial™ as well as various injectables including BOTOX® Cosmetic.
One of the founding principles of Studio Vanish is an understanding that people change, their needs evolve and the joy they once experienced with that new tattoo can turn into regret. Studio Vanish offers scar-free and virtually pain free laser tattoo removal at a competitive price point. The company has invested in the gold standard laser for tattoo removal; the RevLite® SI is a new generation Q-Switched Nd:YAG laser manufactured by Cynosure Incorporated providing clients greater efficacy and comfort.
Studio Vanish strives to be the leading provider of laser tattoo removal in Colorado and has set the bar high to exceed client expectations. If a client still has visible ink after completing the suggested number of laser treatments within the recommended time-frame, Studio Vanish will perform additional treatments at no cost to the client. This is a first in the Colorado market and demonstrates Studio Vanish's commitment to positive client satisfaction and outcomes.
Recent studies show medical treatment for visible skin conditions including aging and sun damage has demonstrated a positive role in emotional wellness. Studio Vanish works to thoughtfully determine which treatments and products are the most beneficial for each individual client. The customizable menu of services can specifically address acne, acne scarring, anti-aging and sun damage based on skin type and client need.
Additionally, Studio Vanish is pleased to announce its partnership with three of the most respectable and proven skin care product manufacturers available today:

iS Clinical®, the exclusive skincare brand created and distributed by INNOVATIVE SKINCARE®, is comprised of exceptional, long-term "results oriented" anti-aging and optimizing skincare formulations. By developing and utilizing the most advanced research technology, INNOVATIVE SKINCARE® doctors and scientists meticulously design and create products that conclusively deliver rapid and safe, long-term positive results.
ZO® MEDICAL is Dr. Zein Obagi's new generation of therapeutic skin care based on his new thinking and reflecting his views on the need to regulate and limit the usage of hydroquinone and retinoic acid for three to five months of treatment. The products have been created to address a wide range of skin disorders and chronic conditions. With decades of science and experience invested in its development, ZO® MEDICAL by Zein Obagi, MD is suited for everyone, regardless of skin condition, age, gender, or ethnicity.
EltaMD™ offers True Broad-Spectrum UVA/UVB Protection and is founded on the belief that the responsible and innovative application of medical expertise and science will change the way physician-dispensed skin care products treat people. The EltaMD® sun care line includes a complete spectrum of sun care products, one for every skin type and unique need.
Studio Vanish is committed to being the premier leader in laser tattoo removal and skin rejuvenation in Colorado and as such only employs licensed medical aestheticians who are also certified laser specialists.