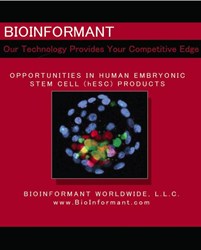 Rockville, MD (PRWEB) August 15, 2013
Opportunities in Human Embryonic Stem Cell Products.
Human embryonic stem cells (hESCs) are stem cells derived from the inner cell mass of a blastocyst, which is a stage reached four to five days post-fertilization. Human embryonic stem cells are the most pluripotent of all stem cell types and can develop into over 200 different cell types of the human body.
Human embryonic stem cells were first derived from mouse embryos in 1981 by Martin Evans and Matthew Kaufman, and independently by Gail R. Martin. In 1995, the first successful culturing of embryonic stem cells from non-human primates occurred at the University of Wisconsin-Madison. Another breakthrough followed at the University of Wisconsin-Madison in November 1998 when a group led by Dr. James Thomson developed a technique to isolate and grow hESCs derived from human blastocysts. Federal funds to support hESC research became available on August 9, 2001, when President Bush announced his decision regarding federal funding for hESC research.
Because of their plasticity and unlimited capacity for self-renewal, hESCs have been proposed for use in wide range of applications, including toxicology testing, tissue engineering, cellular therapies, and basic stem cell biology research. Of particular interest to the medical community is the potential for use of hESCs to heal tissues with naturally limited capacity for renewal, such as the human heart, liver and brain.
However, human embryonic stem cell research is heavily encumbered by patents held by the University of Wisconsin's Wisconsin Alumni Research Foundation (WARF), which creates significant challenges for companies seeking to develop new products.
This market research report explores the complex IP landscape affecting development of human embryonic stem cell products, providing clear guidance for companies entering or already within the market, from collaborating with WARF to less costly alternatives - such as circumventing the claims, conducting research off-shore, and developing embryonic stem cell products for other species.
To order this report: Opportunities in Human Embryonic Stem Cell Products.
Contact: Shauna
800.298.5699
Customerservice(at)marketresearch(dot)com
About BioInformant Worldwide, L.L.C.
BioInformant is the global leader in stem cell industry data. As a specialty research company, we use technology to track and identify profit opportunities in stem cell markets and provide this data to clients that require stem cell strategies. We advise companies on how to market stem cell products for immediate profit, competitively position products for additional profits within 1-3 months, and approach product development for dramatic long-term profits. Our clients acquire more stem cell customers within 30 days, using the strategies in our reports
About MarketResearch.com
MarketResearch.com is the leading provider of global market intelligence products and services. With research reports from more than 720 top consulting and advisory firms, MarketResearch.com offers instant online access to the world's most extensive database of expert insights on global industries, companies, products, and trends. Moreover, MarketResearch.com's Research Specialists have in-depth knowledge of the publishers and the various types of reports in their respective industries and are ready to provide research assistance. For more information, call Cindy Frei at 240.747.3014 or visit http://www.marketresearch.com.
Follow us on Facebook http://www.facebook.com/marketresearchdotcom.
Follow us on Twitter http://www.twitter.com/marketresearch
Opportunities in Human Embryonic Stem Cell Products – Table of Contents:
I. Background
II. Available Stem Cell Lines
III. Applications
IV. Application Priorities
V. Patent Environment
VI. Historical and Future Growth Projections
VII. hESC Product Competitots
A. Cellartis AB
1. Human embryonic stem cell lines
2. Monoclonal Antibodies for hESC Research
3. Differentiated Cell Products
4. Associated hESC products
B. Vitrolife
C. Tataa Biocenter
D. Invitrogen
1. hESC Culture Media & Reagents
2. hESC-qualified Basement Membrane Extract
3. hESC cDNA Libraries
4. hESC Reporter Cells
5. hESC PCR Kits
6. hESC Stem Cell Antibodies
7. hESC Stem Cell Growth Factors
E. Stem Cell Technologies
1. hESC Culture Media & Reagents
2. hESC Primary & Secondary Antibodies
F. BD Biosciences
G. Chemicon
1. hESC Culture Media and Reagents
2. hESC Lines
3. hESC Kits
4. hESC Antibodies
H. R&D Systems
I. SA Biosciences
J. Thermo Scientific
K. Australian Stem Cell Centre
VIII. Specialty Pharmaceutical Companies Developing hESC Therapies
IX. Featured Labs (Potential Customers)
X. Toxicology Testing Legislation
XI. Product Development Guidance
A. Product Categories
1. hESCs
2. hESC Derivative Cells
3. hESC Reporter Cells
4. hESC Antibodies
5. hESC Characterization & PCR Kits
6. hESC Qualified BME
7. hESC cDNA Libraries
8. hESC Growth Factors
9. hESC Media and Culture Reagents
B. Product Ideas & Suggestions
1. Areas of Underdeveloped Competition
2. Mouse ESC Products
3. iPS Cells Products
4. Non-animal-derived Culture Reagents for hESCs
5. Strategic Collaborations
6. Products for generating Pure ESC populations
7. hESC Toxicity Assay Kit
XII. Events of Interest
Appendix: Human Embryonic Stem Cell Research Centers and Contact Information