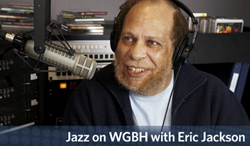 Live Broadcast from Scullers Jazz Club.
Boston, MA (PRWEB) August 12, 2013
Eric Jackson hosts "Eric in the Evening" live from the stage at Scullers Jazz Club. Performers include Yellowjackets, Gary Burton, Grace Kelly and Arturo Sandoval who was just awarded the Presidential Medal of Freedom.
Sam Kopper of Locomote mixes and broadcast the radio signal from his mobile studio, the "Green Bus" on location just outside the DoubleTree Suites by Hilton Boston-Cambridge, the home of Scullers Jazz Club.
The series is sponsored in part by North Coast Brewers' "Brother Thelonious" Belgian style abbey ale.
Dates and Performances:

August 16, 2013 at 10pm - The Yellowjackets
September 30, 2013 at 10pm-Gary Burton 70th Birthday Tour featuring Julian Lage, Antonio Sanchez and Scott Colley
October 11, 2013 at 10pm-Grace Kelly
November 29, 2013 at 10pm-Arturo Sandoval
Come out and join us for an exciting evening of music and be part of the live audience! Tickets available at http://www.scullersjazz.com/.
Eric in the Evening airs on 89.7 WGBH Friday - Sunday, 9pm to midnight. Featuring the best jazz, in-depth looks at great artists, live interviews, and performances from the WGBH studios, Eric in the Evening is Boston radio's signature jazz program.
Since 1989, the legendary Scullers Jazz Club has presented the biggest names in straight ahead, Latin and Contemporary Jazz, as well as Blues, Soul, R & B, Cabaret and World Music. Scullers Jazz Club has hosted some of the very best musical artists in the business including; Chris Botti, Roy Haynes, Jamie Cullam, David Sanborn, Arturo Sandoval, Christian Scott, Tony Bennett, Esperanza Spalding, Christian McBride and Wynton Marsalis to name a few.