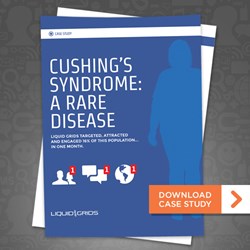 It's wonderful to see such definitive proof of the value that Direct to Persona™ marketing can provide companies in the healthcare industry.
La Jolla (PRWEB) August 14, 2013
Liquid Grids, Healthcare's only All-in-One Inbound Marketing platform, has proven that the inbound marketing model is a highly successful tool for the Healthcare Industry with the release of three case studies this week. The case studies document campaigns for Obesity, Cushing's Syndrome and Autosomal Dominant Polycystic Kidney Disease. These campaigns demonstrate Liquid Grids' ability to strategically create hyper-targeted, pay-per-click, social media and inbound marketing results, all powered by the Liquid Grids platform.
In each campaign, Liquid Grids applied its Direct to Persona™ marketing system in which consumer personas were generated by identifying and analyzing the wealth of healthcare dialogue available through online media. Based on these personas, Liquid Grids generated highly contextual and agile "Liquid Content" designed to attract and engage consumers leading to conversion. Liquid Grids is the only all-in-one inbound marketing solution that has applied these techniques to the Healthcare industry.
"We are thrilled to be releasing these compelling case studies regarding our work with these campaigns," says Malcolm Bohm, CEO of Liquid Grids. "It's wonderful to see such definitive proof of the value that Direct to Persona™ marketing can provide companies in the healthcare industry."
The case studies detail Liquid Grids' rapid victories for its clients by creating inbound strategies specifically for the healthcare industry. These case studies represent campaigns for a variety of clients across Market Research, Pharma and Diagnostics companies. "Our clients are seeing extremely impressive results, fast," said Bohm.
Liquid Grids' Direct to Persona™ Marketing approach utilizes highly sophisticated disease-focused, Social Health Intelligence to create targeted marketing personas. These personas and their dialogue inform social media and pay-per-click campaigns which are extremely cost efficient as compared to traditional DTC campaigns.
Through a mix of earned and paid media, highly trackable links to the Liquid Content are inserted into strategic points across the proprietary disease grids created and retargeting technology is applied to serve further impressions.
To download a copy of the study, visit http://liquidgrids.com/case-studies/.
About Liquid Grids
Liquid Grids, the pioneer in Direct to Persona™ Marketing, is being used by companies across the healthcare spectrum to deliver the most effective contribution to their inbound marketing campaigns. By providing the most advanced and predictive intelligence available about healthcare consumers, Liquid Grids provides insightful and impactful marketing strategies that change the way the Healthcare industry interacts with online health communities. For more information on Liquid Grids, call 858.768.5139 or visit http://liquidgrids.com/.