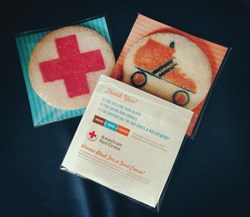 Roller derby is now the world's fastest-growing sport for women, with nearly 1500 leagues worldwide, 750 of them in the US.
San Francisco, CA (PRWEB) August 13, 2013
Roller derby girls have been known to shed a little blood in the name of athletic competition, but now they're planning to give blood and encourage others to do so as well for a completely different reason – to help save lives. Various Bay Area roller derby leagues and teams, Brown Paper Tickets and the American Red Cross are joining forces for the "Make 'em Bleed" Blood Drive – a series of blood drives held Aug. 13-16 and Sept. 21. In celebration of the 78th anniversary of the sport Aug. 13, Brown Paper Tickets will also bring the son of the inventor of roller derby, and commissioner of the sport in the 50s, 60s and 70s, Jerry Seltzer, to sign autographs and answer questions about the history, the people and the behind-the-scenes stories about the sport.
Roller derby is now the world's fastest-growing sport for women, with nearly 1500 leagues worldwide, 750 of them in the US. "Brown Paper Tickets is proud to help Bay Area roller derby teams to celebrate the 78th anniversary of the sport that my dad invented," said Jerry Seltzer, the son of the inventor of the sport of roller derby and an outreach representative for Brown Paper Tickets. Seltzer also serves as a member of a Brown Paper Tickets team with a mission to advance and support the sport of roller derby across the globe. To learn more about Brown Paper Tickets' long history in support of roller derby, go to http://community.brownpapertickets.com/Doers/derby.html
The blood drives will feature roller derby girls greeting and thanking blood donors and even donating blood themselves. Donors at the "Make 'em Bleed" blood drives will receive an official event T-shirt, a roller derby themed temporary tattoo, a cookie embellished with either a roller skate or the Red Cross logo, and the opportunity to meet Seltzer.*
"Brown Paper Tickets has a long history of working side-by-side with roller derby teams to help them to achieve their goals, and we are pleased to help to make their Red Cross blood drives a success," Seltzer said.
Bay Area blood drives include:
Aug. 13 from 9 a.m. to 2 p.m. at Whole Foods (1710 41st Ave., Capitola) hosted by the Santa Cruz Derby Girls.
Aug. 14 from 1 p.m. to 6 p.m. at Whole Foods (1710 41st Ave., Capitola) hosted by the Santa Cruz Derby Girls.
Aug. 15 from 1 p.m. to 6 p.m. at Marina Center (133 General Stillwell Dr., Marina) hosted by the Monterey Bay Derby Dames.
Aug. 16 from 1 p.m. to 7 p.m. at Asbury United Methodist Church (4444 East Ave., Livermore) hosted by the Undead Bettys.
Sept. 21 from 9 a.m. to 3 p.m. at (397 Blossom Hill Road San Jose, CA 95123) hosted by the Silicon Valley Roller Girls.
The summer months are typically a time of year when blood donations decrease. Regular donors are away on vacation and schools are out of session – eliminating the opportunity to hold high school and college blood drives.
"Summer blood drive sponsors are absolutely critical to maintaining a healthy community blood supply throughout the year," said Jared Schultzman, communications manager at the American Red Cross Northern California Blood Services Region. "We are extremely grateful for the support from all of the participating roller derby girls and we look forward to building on this partnership in the future."
All blood types are needed to ensure a reliable supply for patients. To schedule an appointment to donate blood at a "Make 'em Bleed" blood drive, call 1-800-RED CROSS (1-800-733-2767) or visit redcrossblood.org and enter sponsor code: DERBY. Individuals who are 17 years of age (16 with parental permission), meet height and weight requirements (at least 110 pounds based on height) and are in generally good health may be eligible to donate blood.
About the American Red Cross: The American Red Cross shelters, feeds and provides emotional support to victims of disasters; supplies about 40 percent of the nation's blood; teaches skills that save lives; provides international humanitarian aid; and supports military members and their families. The Red Cross is a not-for-profit organization that depends on volunteers and the generosity of the American public to perform its mission. For more information, please visit redcross.org or visit us on Twitter at @RedCross.
About Brown Paper Tickets: Brown Paper Tickets (http://www.BrownPaperTickets.com) provides easy, reliable online event registration and ticketing with the lowest fee, the highest level of service, and the largest commitment to the sport of roller derby and to social responsibility in the ticketing industry. The Not-Just-For-Profit ticketing company donates 5 percent of the profits from each ticket sold, pays employees to work 40 hours each year for the cause of their choosing, and employs a team of experts in roller derby to give free assistance, and to help the sport to grow and thrive.
*T-shirts are non-transferable and not redeemable for cash. Jerry Seltzer will be present at all blood drives except Monterey, due to a scheduling conflict.
EDITOR'S NOTE: If you would like to interview Jerry Seltzer or members of any of the local roller derby teams, or have them appear in-studio in promotion of any of the Red Cross blood drives, don't hesitate to call us!