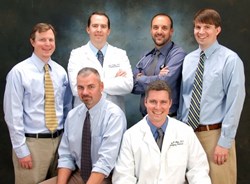 This place is so nice that it almost makes you want to get sick just so you can come and be seen.
Nashville, TN (PRWEB) August 20, 2013
What do you get when six Emergency Room physicians who share a common vision of how patients should be cared for join forces? The answer, Physicians Urgent Care in Franklin, TN.
Physicians Urgent Care is celebrating two years serving Williamson County by offering a unique concept in healthcare. Unlike minute or walk-in clinics, when you visit Physicians Urgent Care you will be seen by an experienced Emergency Room physician every time. In fact, their physicians collectively have over 60 years of emergency care experience.
What distinguishes Physicians Urgent Care from other minute or walk-in clinics is the quality of care that they are able to deliver. Such quality was recently recognized when six of their physicians were nominated as Favorite Docs in the June 2013 issue of Nashville Parenting Magazine.
In an effort to deliver the best care possible, Physicians Urgent Care recently started asking patients to fill out a brief survey after their visit. The industry standard for measuring the quality of a healthcare organization is based on how likely a customer is to recommend that business to their friends or family. High quality healthcare organizations get very excited when their score is above 50. Physicians Urgent Care is pleased to announce that their score is 99! One patient summed up their experience with the comment, "I have worked in the healthcare field for many years and never have I seen such positivity, concern, etc. by all staff involved."
At Physicians Urgent Care, they love taking care of kids! In fact, the six Emergency Room physicians in the group have 20 children. They understand and are educated on how to care for children. There is even a special room dedicated to the care of pediatric patients.
When a friend or family member is sick and you know that they need to see an experienced physician, you don't have to go wait in the ER, you can go to Physicians Urgent Care and be in-and-out in less than an hour.