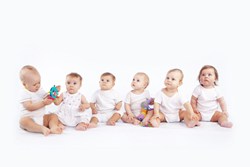 Pausing isn't in our nature; moving on means helping more families achieve the miracle of parenthood.
(PRWEB) August 13, 2013
After just seven years of making the dreams of hopeful parents come true, The Surrogacy SOURCE has helped deliver its 200th baby. This momentous feat signals the rapid growth of one of the nation's leading surrogacy agencies, and more importantly, brings extraordinary joy to yet another happy family.
The Surrogacy SOURCE, a division of Fertility SOURCE Companies, is a surrogacy agency headquartered in Irvine, California. Together with The Donor SOURCE, the company now operates from seven locations around the United States. Recent growth at the company has led to several international partnerships, including initiatives in Israel and China. With a staff dedicated to giving hope and life to many would-be parents, The Surrogacy SOURCE's partnerships in this country and in others have helped mothers and fathers know happiness in a way they never thought possible.
Naturally, helping to give birth to 200 babies is not without its share of challenges. However, Tricia Stimeling, Manager of Surrogacy Case Management for Fertility SOURCE Companies states, "Any challenge we face is looked at as…a bump in the road, which makes us stronger and that much more focused on the goal at hand." She also states that with each case being different, the program is sure to focus on its most important goal: to create a family.
The Surrogacy SOURCE has seen tremendous growth over recent years and much of it has to do with its case management training, which focuses on educating potential parents and surrogate mothers alike. The organization has expanded steadily since its inception in 2003 and management credits that to the passion and dedication of its case managers, along with exceptional Internet marketing efforts. Also credited is the surrogacy program's willingness to build bridges with other professionals in their field. But the most satisfying source of growth has been the numerous referrals from intended parents to friends and family.
For her part, the surrogate mother was extremely pleased at having been part of this milestone, saying "This was such an amazing experience and I am so grateful to have been matched with such a wonderful family. I was able to spend lots of time with them before they headed back home. My family and I had the opportunity to meet their family and friends; it truly was the experience of a lifetime. The day that they headed home I was able to go up and say my last goodbyes for the time being. Thank you again for all your support and guidance over the last year this experience has been so humbling and such a huge, life-changing moment."
What's next for The Surrogacy SOURCE? With more than 30 surrogates currently expecting and baby #500 possible sometime in 2014, Susan Bloom, Director of Donor Recruitment & Marketing for Fertility SOURCE Companies said, "Pausing isn't in our nature; moving on means helping more families achieve the miracle of parenthood."
About The Surrogacy SOURCE
Headquartered in Irvine, California, The Surrogacy SOURCE is committed to providing exceptional coordination services to both surrogate mothers and intended parents. The company has locations across the United States, from Las Vegas, Nevada to Boston, Massachusetts and more. Its services are available to intended parents in a number of other countries, including Spain, Japan, Germany, and Australia. The Surrogacy SOURCE is registered with the FDA and is compliant with all standards and recommendations set by the American Society of Reproductive Medicine (ASRM). The program is licensed by the New York State Department of Health and follows all HIPAA guidelines.
Learn more about The Surrogacy SOURCE at http://www.thesurrogacysource.com/.