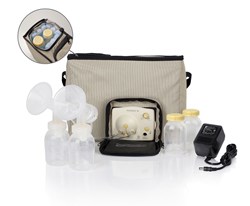 [Aeroflow Healthcare] introduces brands Hygeia and Medela, two top of the line, innovative breast pumps.
Asheville, NC (PRWEB) August 20, 2013
One part of the Affordable Healthcare Act focuses on the health of both babies and new mothers by encouraging insurance companies to provide breast pumps to nursing mothers as either purchases or rentals. Because at one time nursing babies fell out of vogue, and because of major social changes regarding working mothers, the simple act of nursing a baby is sometimes fraught with difficulties. Aeroflow is now geared up to help.
Studies show breastfeeding is perhaps the single most effective method a mother can use to ensure here child's health in the early stages of life. Studies show that babies who are breastfeed are healthier and happier than babies who are not. Aeroflowinc.com has joined with new mothers to help provide breast pumps that will allow mothers to provide the best for their children.
To help moms through this maze of healthcare reform and product choice, aeroflowinc.com has committed to offering the highest quality breast pumps available and at a low, online cost. The company introduces brands Hygeia and Medela, two top of the line, innovative breast pumps that ensure mothers will be able to pump efficiently and comfortably.
The Hygeia double pump offers a full one year warranty and a personal accessory set as well as an AC adaptor power supply. The Medela is cutting edge with two phase expression technology, a maximum comfort vacuum, one touch let-down, adjustable vacuum settings and more.
Besides the Hygeia and Medela, Aeroflow continues to offer name-brand pumps such as Tomy miPump and the Bailey Deluxe Nurture III. Aeroflow stands by all its products and stands ready to help customers negotiate with insurance companies concerning the purchase of breast pumps and many other healthcare needs.
The company invites inquiries about breast feeding, purchases of breasts pumps, and insurance issues, along with any other questions or concerns customers might have. Mothers simply visit the site, click the Insurance Purchase button, and let the company do the rest, or they may call Aeroflow direct at 888-345-1780.