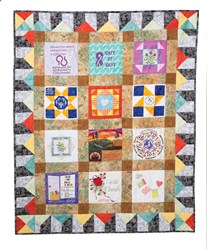 'ASI is proud of the decorators who so generously donate their time and resources to public service and can't think of a more fitting display of their commitment than this beautiful quilt,' said ASI CEO Timothy M. Andrews.
Trevose, PA (PRWEB) August 12, 2013
A 12-square quilt stitched by embroiderers in seven states begins a cross-country journey this week to spur awareness of a variety of causes, including Alzheimer's, domestic violence, Special Olympics, bullying, hunger and Cystic Fibrosis.
The embroiderers created quilt squares for a cause dear to their hearts, then performed and documented their public service for Stitches® magazine, published by the Advertising Specialty Institute® (ASI). The Stitches Hopeful Hearts Quilt will be displayed in several communities where quilters are based before going on permanent display at ASI headquarters in Trevose, PA.
Click here to track the quilt's progress. To learn more and watch video demos visit http://www.Stitches.com.
"ASI is incredibly proud of the decorators who so generously donate their time and resources to public service and can't think of a more fitting display of their commitment to making the world a better place than this beautiful quilt," said Timothy M. Andrews, ASI president and CEO.
Stitches, honored as a Magazine of the Year by the American Society of Business Press Editors, issued an open invitation to embroiderers and chose 13 stitch experts – some working in pairs – whose mix of needle skill and devotion to their causes stood out. In addition to creating a square, each embroiderer volunteered or donated to their cause. The individual squares were stitched together by Geri Finio, a quilter and embroidery artist who owns Studio 187.
Embroiderers of the Stitches Hopeful Hearts Quilt are:

Sandy Miller, Sandy's Sweet Embroidery Creations, Hendersonville, NC, for the Melbourne, FL-based Brevard Rescue Mission, a shelter for homeless single mothers and their children.
Robin Mouton, Back Gate Embroidery, Sneads Ferry, NC, for the Special Olympics of Onslow County, NC, to help intellectually challenged individuals enjoy positive experiences through athletics.
Angie Crook and Geri Schwarz, Cotton & Clover, Fort Smith, AR, for Fort Smith Children's Emergency Shelter, the only shelter provider for homeless children in the city.
Abbie Andersen, Bootstrap Threads, Gig Harbor, WA, for Tacoma, WA-based Crystal Judson Family Justice Center, which serves victims and their families by offering basic necessities and a safe haven.
Loronda Schuler, Heav'n Sent Creations, Marshall, MN, for House of Hope Minnesota, which helps teenage girls overcome behavioral issues.
Naomi Spivak, Matan Embroidery, Ann Arbor, MI, for the Back Door Food Pantry, an interfaith food distribution center for the needy.
Michael and Nancy Krupar, Wellington Thread Works, Wellington, OH, for Genesis House of Lorain County, OH, which provides temporary shelter, food and support to women and children escaping domestic abuse.
Tracy Petrekovich, Hoop & Stitch Embroidery, Cortland, OH, for Farmers and Hunters Feeding the Hungry, which gathers, processes, freezes and packages discarded big game meat that's then delivered to food banks free of charge.
Gail Gilmore and Donna Fenstermacher, A To Z Wear Ltd., Cincinnati, for the Alzheimer's Association of Greater Cincinnati, which provides services for sufferers and their families.
Sadia Andrews, Sadia's Designs, Windsor Mill, MD, for the Bethesda-based Cystic Fibrosis Foundation, which works toward a cure while supporting the afflicted. The quilt will not be displayed in Windsor Mill.
For more information and display locations, contact Stitches editor Nicole Rollender at nrollender(at)asicentral(dot)com.
About ASI
The Advertising Specialty Institute (ASI) is the largest media, marketing and education organization serving the $19.4 billion promotional products industry, with a network of over 25,000 distributors and suppliers throughout North America.