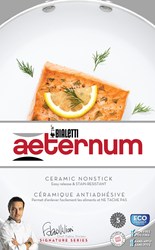 Rancho Cucamonga, CA (PRWEB) August 13, 2013
Bialetti, the number one Italian brand of ceramic non-stick cookware, announced today that it has launched the Aeternum Signature Series by America's "favorite" Italian chef and restaurateur, Fabio Viviani. With the growth of Aeternum's popularity and Viviani's enthusiasm for its amazing cooking capabilities, the two collaborated to create Bialetti's Aeternum Signature Series.
The Aeternum Signature Series is oven-safe up to 400 degrees Fahrenheit, features the signature white ceramic non-stick coating, a heavy gauge aluminum vessel for better heat distribution, and a cast stainless steel handle for extra durability, allowing cooks to sear-roast in the same pan. The pans are also suitable for all stovetops including induction.
"Chef Fabio has demonstrated how limitless Aeternum is in the kitchen," said Brett Bradshaw, president, Bradshaw International. "He has shown us that Aeternum is the 'go-to' pan you can use for just about anything from searing fish to braising meats and simply frying an egg. The new Signature Series takes it to the next level and offers consumers an even better choice in ceramic cookware. And with the rise of energy efficient induction stovetops, this product is perfect."
"I'm so happy to continue my partnership with Bialetti and introduce my new Aeternum Signature Series. For the last three years, I've been using the Aeternum and figuring out what additional features we could add to it to make it that much more user friendly in any kitchen," said Chef Fabio Viviani. "With the launch of my new Aeternum Signature Series, we're really continuing the momentum of the original Aeternum by taking the capabilities of the ceramic interior and making it oven-safe and induction friendly with a heavy duty feel. The Aeternum Signature Series is that 'chef secret tool' that every novice or professional should have in his or her kitchen for roasting, braising, searing, you name it the Signature Series is up for the challenge."
Born and raised in Italy, Viviani grew up using Bialetti's Moka Express stovetop coffee maker and has been an avid user of Aeternum ceramic non-stick cookware. He is also often featured using Bialetti on TV appearances, including his Hit Yahoo TV Series Chow Ciao!
PFOA-free, the Aeternum Signature Series is an eco-friendly choice for cooking enthusiasts as its easy-to-clean, non-stick coating is applied at a low temperature leading to a lower emission of CO2 into the atmosphere. Available now, the Aeternum Signature Series is available at Bed, Bath and Beyond and http://www.bedbathandbeyond.com in a modern gray exterior in 8", 10" and 12" sauté pans for a MSRP of $29.99 – $49.99, an 11" deep sauté with lid for $69.99, 10" square griddle for $49.99, 6qt stock pot for $69.99 and 10pc Set for $199.
For more information about Bialetti and its products, please visit http://www.bialetti.com or find us on Facebook at http://www.facebook.com/bialettiusa/.
About Bialetti
Bialetti is an Italian brand of stovetop coffee makers and cookware products that's bringing a unique combination of current yet accessible Italian design and quality at every price point. Headquarted in Coccaglio, Italy, Bialetti puts a face on the modern Italian's unique approach to life, with a passion for all things good – style & design, food, friends, family and relaxation. Founded in 1933, Bialetti first came to market in Europe as the creator of the "Moka Express." Today, the company offers an Italian-inspired line of cookware, kitchen tools and gadgets, as well as its wide-range of stovetop coffee makers.
Bradshaw International, based in Rancho Cucamonga, Calif., is a leading marketer of kitchenware products and is the exclusive distributor for Bialetti USA.