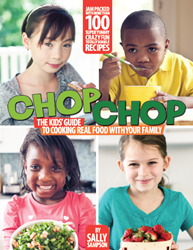 A delicious standout title, sure to inspire the next generation of chefs.
(School Library Journal)
Watertown, MA (PRWEB) August 13, 2013
Recently named the 2013 James Beard Award winner for Publication of the Year, ChopChop, The Fun Cooking Magazine for Families, has introduced families to the joys and benefits of cooking together since 2010. ChopChop's mission is to inspire and teach kids to cook and eat real food with their families. Its vision is to reverse and prevent childhood obesity–one of the nation's most urgent issues. But there is no finger-wagging here! ChopChop's message is positive, and the solution is fun.
Now, ChopChop founder Sally Sampson expands the boundaries of the magazine in the new cookbook, CHOPCHOP: The Kids' Guide to Cooking Real Food with Your Family (Simon & Schuster; August 13, 2013; $19.99). Featuring easy-to-follow instructions for wholesome, delicious meals, this book redefines what it means to cook and eat healthfully by bringing kids and adults together on exciting projects in the kitchen. From French toast to frittatas, chicken soup to classic beef burgers, and banana-peach frozen yogurt to mango lassis, these original, entertaining recipes celebrate nutritious eating together as a family.
Cooking at home helps kids stay healthy, builds family relationships, and teaches math, science and geography as well as cultural, financial and nutritional literacy. That's why ChopChop is your family's best friend—it helps kids create a healthy lifestyle from the start, a vital step in preventing and resolving the ongoing obesity epidemic in our country.
In CHOPCHOP you will find clear, easy-to-follow instructions for over 100 super yummy, totally doable recipes, as well as:

Basic tips for kids just learning their way around food and cooking.
Helpful hints for parents who want to encourage healthy learning and creativity in the kitchen.
Lists of essential equipment and ingredients to keep in stock.
A "seasoning experiment" that will help kids learn about main seasoning elements and how to adjust these according to preference.
Endorsed by the American Academy of Pediatrics and guided by an advisory board of prominent doctors, nutritionists, and other experts, ChopChop's commitment to quality has led to a USDA National Strategic Partnership and attracted positive attention from the White House's "Let's Move" initiative. Best of all, all of the recipes are tested by real kids in real kitchens! CHOPCHOP comes out just in time for Back-to-School lunches and weeknight dinners. CHOPCHOP also makes a terrific gift for the holidays for any family hungry to cook more healthfully. With CHOPCHOP as your guide, your family will enjoy home-cooked meals like never before.
ABOUT THE AUTHOR:
SALLY SAMPSON is the founder of ChopChop magazine and the author and coauthor of numerous cookbooks, including the James Beard Award-nominated The $50 Dinner Party, and The Olives Table (with Todd English). She has contributed to Self, Bon Appétit, Food & Wine, The Atlantic, The Boston Globe, and The Boston Phoenix. She lives with her family in Watertown, Massachusetts.
ABOUT THE BOOK:
CHOPCHOP: The Kids' Guide to Cooking Real Food with Your Family
By Sally Sampson
Simon & Schuster Paperback Original
Publication Date: August 13, 2013
Price: $19.99
Pages: 208
ISBN 10: 1451685874
ISBN 13: 9781451685879
E-Book ISBN: 9781451685893
"What makes ChopChop so great is not only Sampson's choice of subject, appealing and respectful design and language, bright colors and surprisingly sophisticated food photography; it's her (and her editors') choice of recipes."
—Mark Bittman, The New York Times
"ChopChop has made my son love math (measuring ingredients); chemistry (that's cooking!) and good, nutritious food. Most of all, he loves the spirit that ChopChop embodies: Intelligent, healthy fun. It's wonderful."
—Susan Orlean, author of Rin Tin Tin and Throw Me a Bone
"ChopChop is introducing a generation of children (and their parents) to cooking, establishing a healthy lifestyle from the start. Keep a copy in your kitchen."
—David Ludwig, MD, PhD, Director, New Balance Foundation Obesity Prevention Center, Boston Children's Hospital
"ChopChop is beautiful, engaging, empowers kids to cook and eat healthy foods, offers recipes even adult foodies will love, and aims to help reduce childhood obesity—the coming scourge of the health care system."
—Columbia Journalism Review
ABOUT CHOPCHOP:
Endorsed by the American Academy of Pediatrics, ChopChop, The Fun Cooking Magazine for Families, is a nonprofit quarterly food magazine. Published by ChopChopKids, Inc, a 501(c)(3), ChopChop's mission is to inspire and teach kids to cook and eat real food with their families. ChopChop is also the recipient of a coveted gold award from the Parents' Choice Foundation, the nation's oldest nonprofit guide to quality children's media and toys— the only cooking magazine ever to win this designation. to learn more about ChopChop's mission, and to support the organization by subscribing to ChopChop Magazine or by donating to its cause, please visit http://www.chopchopkids.org. Follow ChopChop on Twitter at @chopchopmag, on Facebook at facebook.com/chopchopmag or on Pinterest at pinterest/chopchopmag.