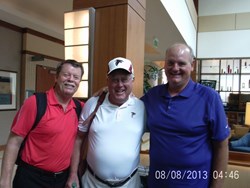 Marlon Moore starts at WR for the 49ers, and makes a great diving catch.
Rolling Hills Estates, CA (PRWEB) August 12, 2013
The week of August 5, 2013 kicked off the first week of the NFL preseason. Baxter traveled to Atlanta for the Falcons vs Bengals game to watch her client Rashad Evans play in his first NFL game. Rashad is battling for a roster spot, and saw time during the fourth quarter. Baxter's Dad, Ron McBride, attended the game and joined Baxter at pre-game dinner with Pat Hill, O-line coach, Atlanta Falcons, Mike Nolan, Defensive Coordinator, Atlanta Falcons, and their wives both ironically named Cathy.
Jill then flew to Detroit for the Jets vs Lions game. Her client Havard Rugland, aka "Kickalicious," made his NFL debut as kicker for the Detroit Lions, and her client Robert Malone Punted for the Jets. Jill's client Louie Aguiar, Asst Special Teams Coach Jets, coached in his first NFL game for the Jets.
Havard Rugland 2/2 with a long of 50 yards, Robert Malone had three punts with a long of 61 yards and landed one inside the twenty.
Jill would travel back to her office to watch a replay of her client Andrew Shapiro, Punter, Houston Texans, play on NFL network against the vikings. To her surprise, Lechler tweaked something before the game and Andrew would be the starting punter. Four punts, long of 59 yards, two inside the twenty and average of 47.3. Unbelievable game for Andrew. Also his first NFL game.
Later in the day, a replay of Forty Niners vs Broncos game would reveal to Jill that client Marlon Moore was the starting WR for the Forty Niners. Marlon had a great diving catch for 12 yards which would set up a field goal for the Forty Niners.