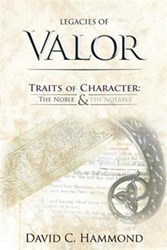 Adversity and hardship define our characters more than any other form of learning.
Loveland, CO (PRWEB) August 14, 2013
Historic heroes of the Bible fought armies, plagues, floods and evil. Can their legacies of courage teach us how to bravely face job loss, family issues and other challenges so many of us face today?
Yes, they can, says David C. Hammond, who chronicles these stories and shares how they helped him overcome his own personal struggles in a new book, "Legacies of Valor, Traits of Character: The Noble & The Notable."
"Adversity and hardship define our characters more than any other form of learning," Hammond says.
The author, who spent his career managing institutional investments, fell victim to long bouts of unemployment and setbacks as the markets fluctuated and recession hit. These resulted in separations from family members and periods of deep depression.
"Legacies of Valor" captures how he grew stronger from each trial, told alongside the stories from Scripture and quotations that reinforce how to find strength when hope and faith are nearing empty. Hammond's approach was intentional: The book reads as if the author is thumbing through his well-worn Bible – 35 years of notes in the margins – as he shares in an easy-to-digest, non-confrontational way.
"I wanted to find a way to pay forward everything I've learned through my faith and my life," Hammond says. "My hope is that someone will give this book to a friend or family member who is struggling, then they'll give one to someone else it could help."
Parents, busy and working men and women, and those seeking spirituality within as well as outside the confines of organized religion can find humor and guidance in "Legacies of Valor."
"This is how to apply God's word to daily life," he says.
"Legacies of Valor" is available online at Amazon and Barnes & Noble, as well as from Westbow Press. Learn more about the author at http://www.davidchammond.com.