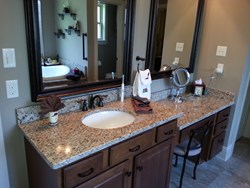 Let GNL Make All of Your Kitchen Dreams Come True!
New Orleans, FL (PRWEB) August 22, 2013
With the National Association of Home Builders reporting recently that the US housing market is undergoing a broad recovery, it is easy to see at local level that the market has finally turned a corner. In New Orleans, the upturn has been noticeable not just for homebuilders, but also for the companies supplying them.
GNL Contractors, which supplies high quality countertops, fireplaces, flooring and other housing essentials to the homebuilders of New Orleans, has noticed a clear upward trend in demand over the last 12 months. The company's experience is backed by data from the New Orleans Metropolitan Association of Realtors, which showed a 7.8% jump in house sales from 2011 to 2012, as well as a rise in price per square foot from $105 to $106.
With demand from both homebuilders and individual customers looking to remodel on the rise, GNL Contractors is pleased to be a part of the local market's steady recovery, which follows the area's four year housing recession. To celebrate the upturn of the market, the company is providing customers with an exclusive offer from now until the end of 2013. CEO Nei Castilho explains:
"With the market picking up again, we want to work with homeowners to be a core part of the recovery. We are celebrating by offering all of our customers the choice of either a free under-mounted stainless steel sink or a 15 year sealer warranty when they buy our granite countertops in any of four fabulous colors, with standard edging."
The under-mounted sink is a feature offered for all of GNL Contractors' counters. The stainless steel sits cleverly inside the granite, meaning the rim is flush with the countertop, creating smooth, clean lines that blend into the rest of the kitchen's design. The sealer warranty is another interesting feature, leaving countertops almost impenetrable by spills and stains.
These carefully crafted features are representative of GNL Contractors' ethos of providing the best possible products and service to their customers. The company sources its granite and marble from across the globe in order that each customer can have a unique and lasting finish to their home, whether in their bathroom, kitchen or other rooms of the house.
As a family-run company, customer satisfaction is high on GNL Contractors' agenda and the team works hard to ensure they source products that are bound to impress. The quality of GNL's service matches that of its products, with measuring, fabricating, installing the granite and the granite itself available for just $32 per square foot.
With the upward movement of the housing market in New Orleans, and with both homebuilders and owners looking to be part of the trend, there's no question that GNL Contractors has a busy year ahead.
To find out more about GNL Contractors and this incredible offer, call (985) 288-5112, visit their showroom in Slidell, LA or check out http://www.gnlcontractors.com/