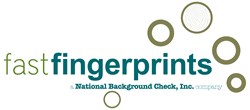 Cleveland, OH (PRWEB) August 16, 2013
Starting August 19, 2013, our new Westlake location (west of Cleveland) will be able to process Level 2 live scan Florida background checks.
FastFingerprints, a division of National Background Check, Inc. (NBCI), is approved by the Florida Department of Law Enforcement (FDLE), to process Level 2 live scan background checks. As an approved Level 2 live scan vendor for FDLE, FastFingerprints is now able to capture fingerprints electronically at both the Columbus office located at 1486 Bethel Road, Columbus OH 43220 and our new Westlake office located at 1991 Crocker Road, Suite 600, Westlake, OH 44145. This process meets the Level 2 live scan background check requirement in the state of Florida. Fingerprints are electronically submitted to FDLE, processed with the FBI and results are delivered to the state agency requesting the background check.
In some Florida state agencies, such as the Department of Health (DOH) and the Agency for Health Care Administration (AHCA) now require a photo with each background check. FastFingerprints has been certified to submit these background checks required by AHCA and DOH in Florida, and the photo will be captured at the time of fingerprinting.
As of April 1, 2013, our Bethel Road location has been fingerprinting for AHCA, DOH and for other Florida purposes. Walk-ins for Florida FDLE background checks are welcomed at our Bethel Road location, M-F 8am – 5pm. Starting August 19, 2013, our Westlake office will also be accepting walk-ins for Florida fingerprinting M-F 8am – 12pm & 1pm – 5pm. Please be sure to bring a government-issued photo identification and the appropriate ORI number.
FastFingerprints also offers fingerprint cards to those who seek licensing outside of Florida or Ohio. We have five locations across Ohio where fingerprints can be captured electronically and printed onto two fingerprint cards, which can then be send to the applicable licensing board in the desired state of licensing. If it has been confirmed that submitting fingerprint cards is acceptable for the request, check our locations tab for the hours of operation for these five locations; Independence, West Chester, Bethel Road, Westlake, and Maumee/Toledo.
About FastFingerprints
FastFingerprints, a division of National Background Check, Inc., has been a leader in the services, technology and equipment required to process state and FBI background checks via electronic fingerprinting for over 13 years. In addition to 16 locations here in Ohio and 23 in Florida, FastFingerprints' parent company (NBCI), is one of the few companies in the nation to be recognized by the FBI as an approved FBI Channeling Agency that processes FBI requests for federally legislated purposes. More information on acquiring an FBI criminal history check for federal reasons, not for Ohio state legislative reasons, can be found at http://www.nationalbackgroundcheck.com under the Fingerprinting and FBI Channeling tab. FastFingerprints welcomes walk-ins, and are available for mobile screening appointments. To find a location near you, or to set up a mobile appointment, please visit http://www.fastfingerprints.com or call 1.877.932.2435.