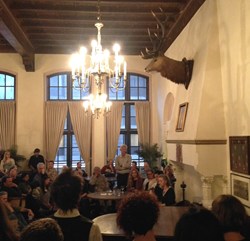 San Francisco, CA (PRWEB) August 14, 2013
On Tuesday, August 6, 2013, it was standing room only at the historic San Francisco Elks Lodge, located at 450 Post Street. A private, members-only club, the Elks and Green Apple Books worked together to sponsor an event for the public: author Rebecca Solnit visited to sign copies of her new book, The Faraway Nearby, and read a few chapters for the crowd.
Solnit, a resident of San Francisco who grew up in Northern California, is an accomplished author and an environmental and human rights activist. Her new book is described as "an exploration of empathy and the power of storytelling." During the reading, Rebecca shared a section that told the story of her mother's descent into Alzheimer's, with poignant descriptions of "pages being erased" which visibly had an emotional impact on the audience.
The vibrant crowd was an eclectic mix of individuals – no surprise to San Francisco residents. What may be surprising is that the San Francisco Elks Lodge itself is known for having a diverse membership and having one of the lowest average ages for members in the Order of Elks – truly reflecting the diversity of their home city.
Kevin Hunsanger, co-owner of Green Apple Books and a member of the SF Elks Lodge said, ""Rebecca loves San Francisco and is an avid supporter of our city. Bringing her to the Elks Lodge was a perfect juxtaposition of San Francisco culture and history."
Proceeds from the book sales benefited the Scholarship Fund at the San Francisco Lodge. Each year, the Lodge selects high school students based on financial need and community leadership for cash scholarships. These students are then eligible to receive scholarships at the State and National level within Elkdom. Outside of the US government, the Elks are the largest donor of college scholarships. Said member Tina Shakour "With the increase in the cost of tuition and the interest rates for student loans, this is a charity I feel strongly about. Education is critical for young people and carrying a burden of debt after school can cripple their chances for real success. Our scholarships make a real difference for these students."
ABOUT THE SAN FRANCISCO ELKS LODGE: The San Francisco Elks Lodge is the oldest actively running Elks Lodge and proudly provides donations and services for many San Francisco children and veteran organizations. For more information, visit their website at sfelks.org or on Twitter @sfelks3.
ABOUT GREEN APPLE BOOKS: Green Apple Books preserves the value of real, paper books and is regularly voted the best independent book store in San Francisco. Visit them at 506 Clement Street or on the web at greenapplebooks.com.