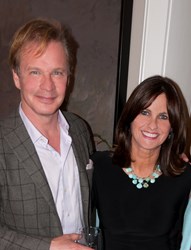 allison sprock fine art is the first and only gallery to represent Smith's artwork
Charlotte, North Carolina (PRWEB) August 28, 2013
Early this summer, P. Allen Smith (http://www.PAllenSmith.com) visited Charlotte to speak to a select gathering at allison sprock fine art (http://www.allisonsprockfineart.com). He discussed design projects, gardening observations, and a love of beautiful art and architecture. Further, Smith, a nationally renowned food, garden, and landscape expert, author, artist, and host of multiple PBS and syndicated television and radio shows, presented his 2013 watercolor collection, which will be on display at allison sprock fine art though December 2013.
Although several of Smith's pieces were auctioned at Sotheby's in 2010, he has rarely provided public viewings; rather, he reserves access to his collection primarily for visitors to his idyllic Moss Mountain Farm, which boasts a million and a half daffodil bloom garden. In fact, allison sprock fine art is the first and only gallery to represent Smith's artwork, which consists of quick, impressionistic interpretations of intimate scenes.
P. Allen Smith, who spent his childhood on a farm, is the author of the best-selling Garden Home book series. "I come from a long history of proud nurserymen and mediocre artists," he laughed. Moreover, Smith is an award-winning landscape designer, rosarian, and lifestyle expert who has been featured in the New York Times as well as in Southern Living. Sprock, incidentally, noted that Smith "is as real and humble as he is intelligent and hilarious."
P. Allen Smith is one of America's most recognized and respected garden and design experts, providing ideas and inspiration through multiple media venues. He is the author of the best-selling Garden Home series of books published by Clarkson Potter/Random House, including Bringing the Garden Indoors: Container, Crafts and Bouquets for Every Room and the recently published cookbook, Seasonal Recipes from the Garden inspired by the abundance of food from his farm and a family of great cooks.
allison sprock fine art is located in the heart of historic Myers Park. At 600 Queens Road, the Charlotte, NC gallery features original art from all over the world. Sprock has successfully accrued a compilation of both famed and emerging artists. Moreover, her gallery has a cozy feel and an eclectic mix of sophisticated expression: from inspiring abstracts to stunning figures and breathtaking portraits.