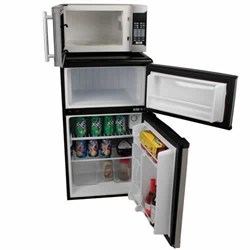 Austin, TX (PRWEB) August 14, 2013
As the school year begins, parents, teens, and college students are left scrambling for a few last minute purchases. Compact Appliance has always been a popular source for anyone looking to save time, money, and space with today's most popular appliances. This year, they are making things even easier by hosting a Back to School Giveaway featuring an EdgeStar Microwave-Fridge combo unit. This giveaway is paired with significant discounts on every product on the entire site.
EdgeStar is known for offering high-quality products at low prices. Each product is designed to help everyone maximize their functional space without sacrificing performance. Anyone visiting the website can sign up to win an EdgeStar refrigerator and microwave combo unit which has a retail value of more than $400. This combo unit is known for its sleek, innovative design. At only 3.1 cubic feet it still offers a surprisingly large amount of storage space. This makes it an ideal solution for hotel rooms, college dorms, apartments, and offices.
The EdgeStar combo unit includes a microwave, refrigerator, and microwave. This not only provides maximum functionality but also an elite energy efficient solution. There are a variety of additional features designed to allow maximum customization without sacrificing space savings. They include brackets to enhance stability, stainless steel exterior, bottle rack, and full range of temperature control features.
Kara Zorn, Director of Category Development, stated "At CompactAppliance.com, we understand how stressful the beginning of a school year is on students, parents, and teachers alike. To help celebrate the beginning of another school year we decided to help out in any way we could. Not only are we giving away an EdgeStar microwave-fridge combo unit but also slashed prices on every product, across the entire website."
Kara Zorn went on to say, "We chose the EdgeStar 3-1 combo unit for the giveaway for several reasons. First, it is a shining example of what we expect from every product found at CompactAppliance.com. It offers incredibly space savings and energy efficiency without sacrificing quality or functionality. Plus, the combo fridge and microwave unit is always one of our most popular products at this time of year so giving one away for free is the perfect way for us to show our customers that we are constantly striving to help out by listening to their wants and needs."
Head to CompactAppliance.com for more information about the EdgeStar refrigerator microwave combo unit giveaway. Certain restrictions may apply.