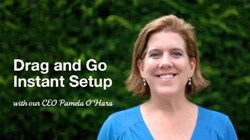 The perfect solution would be if users could just dump the info from various sources into the CRM and have it instantly transformed into organized and usable contact data.
Providence, RI (PRWEB) August 13, 2013
Batchbook announces Drag and Go instant setup, which will save small businesses hours of CRM setup time and will help users create organized contact profiles and lists instantly.
One of the main problems small businesses have with staying on top of contacts is that information is spread out all over the place. Pieces of contact data can be found in email address books, social profiles, accounting software, task managers, and even sticky notes collecting dust on someone's desk.
Batchbook provides CRM software that makes it easy for teams to work together to collect and use all of their contact data. The first step for any business is to have an easy way to bring their current information into the CRM for better organization.
To solve this problem, Batchbook has simplified the process of importing contacts and introduced an industry first, Drag and Go setup. Users can now just drag in a file to trigger an import of their contacts. Custom fields can be created on the fly to bring in every bit of information. Once a file is dragged in, users will have organized contact profiles full of contact details, custom info, and hooked up social profiles, as well as an action oriented list that can be used to stay in touch with any group of imported contacts.
"We asked ourselves, what is the easiest way for customers to get their contact data in to Batchbook? The perfect solution would be if users could just dump the info from various sources into the CRM and have it instantly transformed into organized and usable contact data. That is how we came up with Drag and Go setup," says Pamela O'Hara, Batchbook's CEO.
The key to Batchbook's instant setup is it's unique drag and drop importing. With it, any spreadsheet file saved in CSV or vCard format can be dragged from it's folder right into Batchbook. This immediately starts the import process, where users can map custom information to current fields or create new ones with one click.
This feature alone can save users a ton of time as they bring in their contacts. But Batchbook wasn't done innovating. The team at Batchbook wanted to make sure that any business's custom data could be brought in on import. If one company needs to keep track of shoe size and another absolutely has to know a person's age, it's important to be able to bring that information in.
The solution they came up with was adding the ability to create custom fields right when a user imports a file. If there is a column of data in the spreadsheet that doesn't have a field to map to in Batchbook, users can select to create a new field. A new field is instantly created to hold any data from the spreadsheet column.
And, since the ultimate goal is to stay in touch with contacts in your CRM, Batchbook creates a new active list for every import. Users can view this list and take action from it. Some of the things that can be done from a list include sending an email, printing mailing labels, and exporting contacts to integration partners such as MailChimp, Eventbrite, Xero, and QuickBooks Online.
All of this is accomplished by one simple action from the user. All they need to do is drag a file over any open Batchbook screen, and in an instant, they are on their way to organized bliss.
"Importing contacts is where it all starts for new users, and it's also how our customers add new contacts from trade shows, conferences, and other events. We wanted to make the process as simple as possible," says Keri Calhoun, Batchbook VP of Product Development.
Batchbook, an early pioneer of social CRM, is setting a new standard for ease of use with Drag and Go instant setup. Just as social data is now a "must have" in CRM software, simplified drag and drop importing and setup will likely become a must for forward thinking CRM companies.
For more details, or to request an interview, please email pr(at)batchblue(dot)com.
About Batchbook
Batchbook is a software company based in Providence, RI, founded in 2006. Their social CRM software is designed for small businesses and organizations. Batchbook provides an affordable, cloud-accessible solution that is easy to adopt as an individual or a team. Its feature set includes full contact details management, social integration, to-do list, advanced searching, list building and reporting. Batchbook takes a unique approach to contact management, encouraging users to maintain smaller lists, make more personal contact, and to build a culture of openness and teamwork.
Press Contact
Christelle Lachapelle
Brand Manager
pr(at)batchblue(dot)com