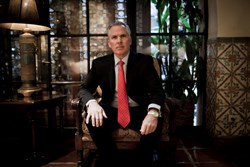 Corpus Christi, Texas (PRWEB) August 12, 2013
A nationwide recall has been issued for unexpired sterile products from Specialty Compounding, LLC after a string of bacterial infections were reported in two Corpus Christi hospitals. Hospitals affected include Corpus Christi Medical Center- Doctors Regional and Corpus Christi Medical Center- Bay Area in Corpus Christi, Texas. Thomas J. Henry Injury Attorneys is currently investigating these claims.
According to the U.S. Food and Drug Administration (FDA) on August 9th, 2013, the recall was issued after the FDA received 15 reports of Corpus Christi residents suffering bacterial infections.
Specialty Compounding acknowledges that any contamination in a product meant to be sterile could be fatal. According to a company press release published August 9th, 2013, "if there is a microbial contamination in products intended to be sterile, patients are at risk of serious infections which may be life-threatening."

The recall was voluntarily issued by Specialty Compounding of Cedar Park, Texas, near Austin.
The FDA reports 15 incidents of bacterial infection; Corpus Christi Medical Center reports 17 possible affected patients.
The cases of infection occurred at Doctor's Regional and Bay Area Medical Center in Corpus Christi, Texas.
All patients affected were being treated with Calcium Gluconate IVs when they received a bacterial infection from a possible tainted drug.
Calcium Gluconate IVs are often used to treat patients with low levels of calcium in their blood and patients with heart problems.
The recall affects all unexpired sterile products distributed by Specialty Compounding since May 9, 2013.
Thomas J. Henry Injury Attorneys are currently investigating cases of serious bacterial infections at Doctors Regional and Bay Area hospitals in Corpus Christi, Texas. If you contracted a bacterial infection during a stay at a Corpus Christi Medical Center facility, call our offices immediately. We are available 24/7 nights and weekends.