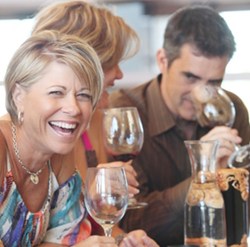 Paso Robles, CA (PRWEB) August 12, 2013
First introduced to the state during the gold rush, Zinfandel is a varietal more closely associated with California than with its European heritage. Nowhere has Zin been embraced more than in Paso Robles, which celebrates its quintessential wine grape with the Zinfandel Weekend each March. The Zin Lovers Tour, created by Grapeline Wine Tours, gives fans of the versatile varietal another opportunity to sample the best expressions of Paso's signature wine grape.
On Saturday, September 28, guests participating in this one-day-only event will taste a variety of wines with a focus on premium Zinfandels from various Paso Robles vineyards and winemakers. The four featured wineries, each renowned for Zinfandels, are Zin Alley, Turley Wine Cellars, Peachy Canyon, and Rotta.
The Zin Lovers Tour begins with a tasting at Zin Alley where owner and winemaker Frank Nerelli personally introduces the wines he creates on his property. Zin Alley is a boutique winery nestled in the heart of the Templeton Gap whose only focus is producing top notch Zinfandel with production limited to 500 cases. The dry-farmed, head-pruned vines are grown in the old world tradition to produce a rich and very complex wine.
The majority of the 28 wines Turley Wine Cellars produces are single vineyard designated Zinfandels. Relying primarily on head trained old vine Zinfandels, Turley Zins originate in several local vineyards, including one planted in 1885. With very old vines, certified organic vineyards, and wines made with all-natural yeasts, Turley is a great stop for Zin aficionados.
Peachy Canyon Winery's old school-house tasting room overlooking the vineyards in the beautiful West side Paso Robles pours many award-winning Zins and has helped establish Paso Robles as a premier wine region. The winery has been owned and operated by the Beckett family since 1988.
The last stop on the tour is Rotta Winery, one of the first three wineries established in Paso Robles. The original vineyard and winery was started in 1856 and bought by Joe Rotta in 1908. Rotta bonded the winery after Prohibition in the 1930s and forged the label into one best known for its hearty Zinfandels. Mike Giubbini, present owner and descendent of Joe Rotta, undertook the task of replanting the old family vineyard "mostly to Zinfandel. It's a hearty grape that's proven in this area, and my grandparents planted it. I wanted everything head pruned and dry farmed - dry farming's really the only way to go out here." With so many generations in this vineyard, Mike Giubbini is the perfect guide for the behind-the-scenes look at this special varietal for the Zin Lovers Tour.
This Zin Lovers Tour is part of the Grapeline Signature Series - occasional tours incorporating wine country's best experiences and offerings. Grapeline is the top guest-rated wine tour company in
Southern and Central California, with over 350 5-star reviews on review sites like Yelp and TripAdvisor.
The tour departs at 10am from all local hotels and concludes at approximately 4:30pm. Pricing is $129 per person, all inclusive.