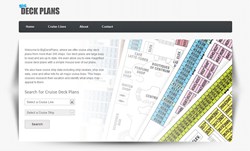 Fort Lauderdale, FL (PRWEB) August 14, 2013
BigDeckPlans.com was created in an effort to give travelers and travel agents an easy way to access cruise ship deck plans and updated public room and stateroom descriptions at no cost. Big Deck Plans is the first website to organize a comprehensive database of detailed cruise ship deck plans available to the public. After realizing the challenge in locating information regarding ship layouts, room options and amenities, Big Deck Plans employed a team of experts to gather and consolidate the data.
Big Deck Plans uses the latest in responsive web design technology, allowing the website to be accessible across multiple devices such as mobile devices and tablets. Along with easy navigation, Big Deck Plans also features high resolution images of the cruise ship deck plans. Big Deck Plans recognized that with the increased size of many of today's ships, cabin numbers have become much smaller on many deck plans. To make these numbers easier to read, BigDeckPlans.com has created much larger deck plan imagery, offering online deck plans that are significantly larger than those offered by the cruise lines themselves. These plans also offer a unique mouse-over feature where cabin numbers are magnified when you mouse-over the deck plans.
It was developed with CodeIgniter as its core, a PHP framework used primarily for web applications, and its UI (user interface) was built on top of Twitter Bootstrap, a combined Javascript and CSS framework for responsive layouts. By combining the newest web technology along with the most extensive deck plan data, Big Deck Plans was able to build the strongest online source of cruise ship deck plans.
BigDeckPlans.com recognized the lack of information readily available to cruise travelers and agents. It was a challenge to find information about the layout and amenities aboard different cruise ships. BigDeckPlans.com brought all the information about cruise ship deck plans to one place, creating a database featuring over 300 popular cruise ships.
Cruise ship deck plans from all the major cruise lines including Carnival, Royal Caribbean, Norwegian, Princess, Disney and more can be found on BigDeckPlans.com. Along with having detailed information about staterooms, BigDeckPlans.com also has cruise ship deck plans for the public areas, showing what activities, restaurants, theaters, shops and more are on each deck.
BigDeckPlans.com is a new resource for those in the cruise booking industry because it allows agents to make recommendations to the consumer about cruise ship and stateroom selection, all from one single site.
BigDeckPlans.com is an ideal way for consumers to pick the perfect cabin when booking a cruise because it features cruise ship deck plans along with color coded descriptions of each room type. This helps consumers more easily distinguish different stateroom types.
About Us
BigDeckPlans.com is a fully multi-device compatible cruise deck plan website that makes viewing cruise deck plans easy. The site is designed to make the cruise booking process less stressful by giving cruise travelers and booking agencies insight into a cruise ship before they book. BigDeckPlans.com is completely free to use and features high resolution images of deck plans from over 300 cruise ships. Additional Information about BigDeckPlans.com can be found by visiting http://www.BigDeckPlans.com/.