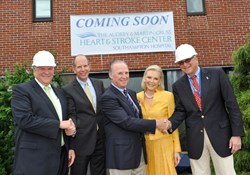 It is well-known that the over-50 age group has the highest probability of experiencing a stroke or heart attack.
Southampton, NY (PRWEB) August 13, 2013
Southampton Hospital hosted a ground-breaking ceremony on August 12, 2013 to celebrate the beginning of its new Audrey and Martin Gruss Heart and Stroke Center and to honor the Gruss' extraordinary gift of $5 million to the new facility at the Hospital. When completed, the Center will provide stroke treatment and carotid stents as needed and will consolidate a broad spectrum of new and sophisticated diagnostic and treatment capabilities with existing cardiovascular programs and services.
The core components will include:
The construction of an advanced endovascular surgical suite for interventional treatment of stroke and vascular disease.
The new endovascular OR will be "hybrid" in that it places the latest imaging technology in the sterile environment of an operating room. Procedures that will be performed include carotid stenting to prevent and treat stroke, aneurism repair, and treatment of vascular, peripheral arterial and abdominal occlusive diseases.
A noninvasive cardiovascular suite for diagnosis of coronary and vascular illness.
An advanced heart and stroke monitoring center to provide connections to tertiary and open-heart centers.
A stroke and heart simulation education center to provide ongoing skills training for healthcare professionals.
Audrey Gruss, President of the Audrey & Martin Gruss Foundation, said, "It is well-known that the over-50 age group has the highest probability of experiencing a stroke or heart attack. With many of us spending months or weekends year-round in Southampton and the East End, Martin and I felt it was important that our local hospital have the capability to conduct stroke and vascular distress intervention." Gruss added, "We are gratified by this addition to Southampton Hospital, knowing that our family and friends will be able to get timely heart and stroke medical care they need, when and where they need it."
Cardiovascular Disease, of which heart disease and stroke are the most common diseases, is the leading cause of death nationally as well as in New York State and Long Island. Given a geographically remote location, compounded by excessive traffic during the summer, heart disease and stroke are a particular concern for the communities served by Southampton Hospital. The nearest similar programs are at Stony Brook University Medical Center, where during the busy summer months it can be a 2-hour trip from East End communities, where the population skews toward older residents and retirees.
"Creation of the Audrey and Martin Gruss Heart and Stroke Center will be transformational for us in that it will significantly advance the Hospital's ability to diagnose and treat stroke and cardiovascular disease, and become a vital component of the care provided by our community hospital," comments Robert S. Chaloner, President and CEO of Southampton Hospital. "This critically important initiative will undoubtedly save lives, and we are grateful for the Gruss' generosity a commitment to quality healthcare in our community."