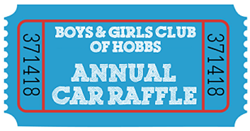 Hobbs, New Mexico (PRWEB) August 13, 2013
Permian Automotive Group is proud to join the Boys and Girls Club of Hobbs, New Mexico again this year for their 30th Annual Car Raffle fundraiser. The elimination drawing for the winners of each of the four vehicles will be held on August 17, 2013 at the Lea County Event Center beginning at 3:00pm. In addition to the drawing for the new vehicles provided by Permian Automotive Group there will be door prizes, bingo, other games and a second raffle drawing for the chance to win $1,000 cash. The four vehicles featured in the raffle are a 2013 Ford Mustang, a 2013 GMC Sierra, a 2013 Toyota Camry and a 2013 Nissan Juke. Tickets to the event are $50 each and include entry into both the vehicle and cash raffles and two brisket dinners. Tickets are available at both Permian Automotive Group, located at 800 N Turner Street in Hobbs, New Mexico and the Boys and Girls Club of Hobbs by calling (575) 397-4446 or (575) 393-7905. Last year, 2,400 tickets were sold and this year they hope to surpass 2,500 ticket sales.
Each year for the past 30 years, the Boys and Girls Club of Hobbs, New Mexico has held the car raffle to help raise money for and bring awareness to the important work they do. The Boys and Girls Club of Hobbs is dedicated to guiding the children of Hobbs towards a better future for themselves and the community by encouraging and teaching them stay in school, be good citizens and live healthy lifestyles. Fundraisers such as the car raffle help provide funds to the Boys and Girls Club of Hobbs to continue to offer a variety of programs. Some of the activities they provide include education and career development, leadership and character development, health and life skills, the arts, sports and fitness as well as a childcare center. These programs offer invaluable skills and information that help children thrive now and well into their adult lives.
Permian Automotive Group has been a part of the Hobbs, New Mexico community since 1948. Over the past 65 years, they have sponsored many events that help raise funds for valuable community resources such as the Boys and Girls Club of Hobbs. Their dedication to their community is a reflection of their dedication to their customers and employees. Permian Automotive Group is committed to providing the means to create a bright future for the residents of Hobbs and all of Lea County through their participation in community events and fundraisers. For more information on Permian Automotive Group, please visit their website at PermianAutomotiveGroup.com, call them at 575-393-1711 or visit them in person at 800 N. Turner Street in Hobbs, New Mexico. For more information about the Boys and Girls Club of Hobbs, you can visit their website at http://bgchkid.org/, or reach them by phone at 575-397-4446 or 575-393-7905.